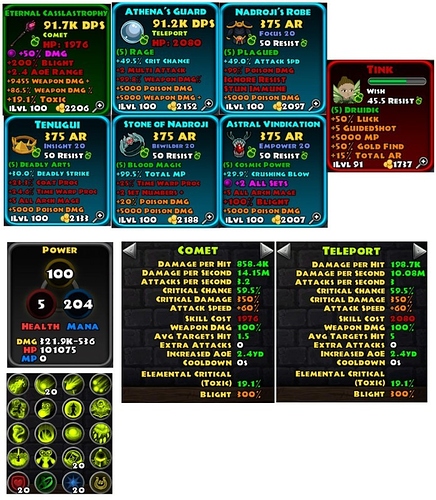 Build Name: Living Sentry
This build Main source of damage is comet. OH orb are damage buff to me because of +%weapon damage (lagend affix). that OH originally are lagend rage sheild *Jaspered to orb.
the only reason i need +% weapon damage (lagend affix) on OH is because high base damage on my OH will effect my comet damage.
Why.?
because TimeWarp boost comet/projectile by 100% OH damage, so it must for me to get high base damage on OH.
*Teleport are bonus to me to move faster & avoid attack from those high rank mob.
This build heal are completely depend on regen, potion and pet. That why on my robe stun immute affix are important. skyfall damage are super and it will stun u. with this i can right away use potion when got hit by those ball.?
Coat weapon proc affix used as crit&element crit support, just to make sure i got extra crit chance since crit affix & proc are 2 different thing.
since i got +% element damage from nadroji robe. i choose plagued to boost DoT damage along with druidic+regen. build some +element damage for extreme DoT.
Play Style: Shot from range. (stun NEEDED, get it from arc mage talent). use timewarp as your range guide. when mob almost reach to timewarp. teleport away and start attacking again until they die. stun talent for slowing them to reach u.
Damage for this build are SO-SO, just enough to kill them.
#Sorry bad English.