If you play mage, yes, definitely.
I would probably find it to be an arena pet, as something like arcane could reduce an enemies resist, ice could slow them down (and i believe it halves their damage)
A twister for main damage, for sure!
Maybe like summon for OH main attacks with torrent?
Then the HP affix would help towards survivability with satyrs spirit and fauns gift?
However, im not well versed in pvp so either someone else would have to help you or you'd have to do some reading on immortal builds to steal some knowledge and also damage builds to steal some knowledge from there too
@TeaCup if this +hp was +weaken then I would have had a really really good pet
Thats a really good pet , try it with ascendant+arcanist+frozen with disordance twister w/ X2 +2Aoe Range and its good to go mate🤘 .
@darkeons21 I have an idea of what build I want but I need someone more knowledgeable to help me
that's all right cause acsendant also reduces enemies resist with arcane element your lucky you rolled that pet, I don't even have an eternal pet yet, and @darkeons21 is right it's good with arcanist, just put weaken cyan in your item, try demonic, electricution for final burst, fauns will give you resist, satyr will give you more armor, I think you can make a tank damager with warrior or wiz with it
@Shield_Hero I have an idea for what I want but I am out of crystals I will farm this week maybe next week I will post a build I don't know how much I will be testing though
yeah that's all right farming is life, same as mine out of money and out of usable crystals for crafting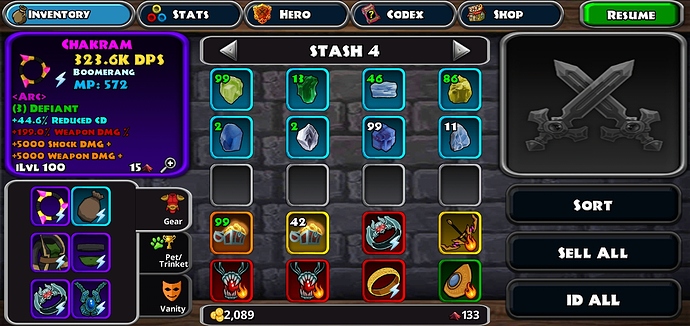 you can just jasper the items with the sets you needed, so that you will no longer use amethyst
@Shield_Hero you are right but some legend affixes can be found on a very specific items and can't be rolled via ruby that's why items are normally jaspered for their affixes rather than sets
try to make a list first before crafting it helps a little, that's what I do if I lack resources.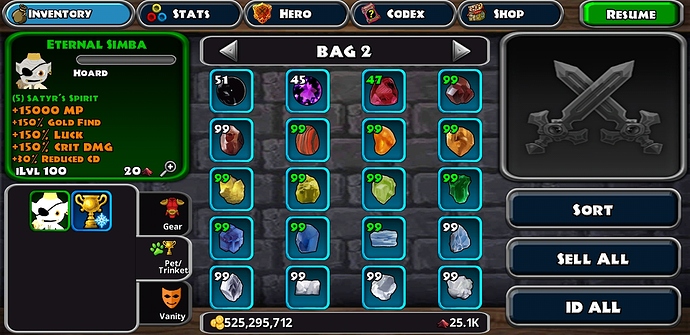 yes , indeed try make a list of affixes sets . For saving extra crystals . Maybe you can open up here someone would help
I have a strange way of making builds.I put a base for the build then I start adding affixes test a bit try something else change again and I do this till I am satisfied or I run out of crystals
One of my favorites @ShadowDragon !



Even the name is awesome.