Is there a thread with a list of up coming changes?
When playing the game on the amazon platform, will there be a noticeable effect of lack of Game Circle support, such as will it prevent players from making in game purchases like boosts? Will I still be able to use Amazon Coins?
Yes you will still be able to use amazon coins. Also, we got this issue fixed and the next amazon build will release at the same time as android and ios (hopefully submitting this week after the patch finishes its testing runs)
What was the issue/resolution? You mentioned hopefully fixing the issue in "next weeks patch" 28 days ago so I'm really crossing my fingers that this week ends up being this week haha
Amazon was able to help us get this working with our software and their latest Amazon SDK.
I could release an update for the Amazon devices now, but since we are so close to getting the latest patch done for all three platforms I wanted to submit them all at once.
Makes sense. What's another week on a two month wait, after all?
edit: This was not meant to be sarcastic.
well the main reason I did NOT submit the patch to amazon last Thursday was because of how close we are with the next update patch.
I didn't want to update the amazon version and run the risk that when I submit this weeks patch it doesn't get approved quickly and the amazon players are left out in the cold again when we update for season 2 and the DQ account system doesn't work for them.
I read your comment and didn't take it as sarcastic or rude. Eye of the beholder I guess… I did notice that v2.2 has been released for Google users.
Thank you @tdaniel for submitting the Amazon patch!!! Hopefully, they will not take long to approve.
Woot Woot. We can finally begin ascensions!!! Thank you @tdaniel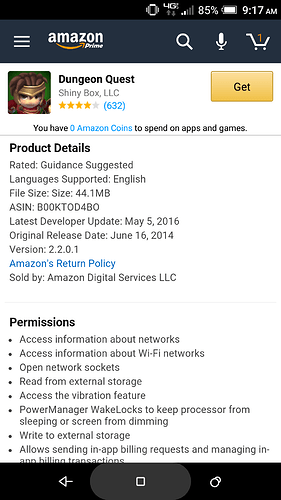 It's not out for the fire tv yet. Here's my fingers crossed!
it is now, just updated while I was playing