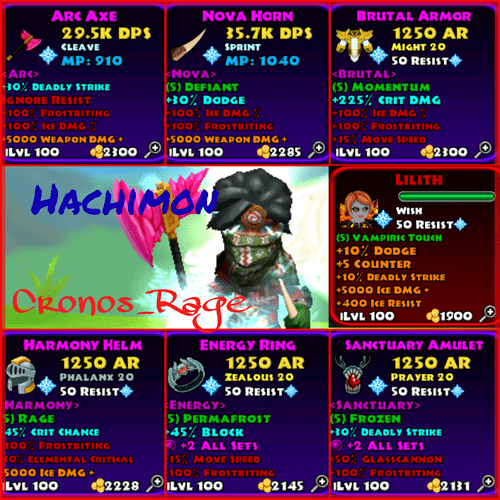 Descriptions:
Just like green garden, this hachimon also is full element build, speed is warrior specialist being fast while mobs slower and run while they chase is what make warrior is the best for it.
Set
Defiant - ignore that damage taken reduced. Perma +25% damage is what I want.
Momentum - extreme fast moving build. This must have.
PermaFrost - ice build without it.? Lol
Frozen - Festival.!!!
Rage - u will want cap your crit damage don't u.?
Vampiric touch - Nothing special. Using it for affix in it only.
Mythic
Arc - beam mobs and freeze them in advance before ramp them.
Nova - being able to move fast, dodging attack is not big problem. Freezing serounding mobs while moving. Great combo to lock and make them receive *7 sprint damage. Op.!
Brutal - *3 crit damage. Super spike. Haha
Harmony - with prayer. Energy always 100% = always deal massive damage. Easy combination.
Energy - no worries of MP. Extra damage. Marvelous.
Senctuary - backup.
Crystal affix.
Crit chance, crit damage, *2 deadly strike, dodge, block.
**Can change 1 deadly to crushing blow.
Legend affix (a MUST)
*3 +100% ED
*6 +100% Element Crit damage
*1 +30% Element crit chance
*1 +50% glasscannon
*2 +15% Movement speed
*1 ignore resist
Epic affix u need only +5000WD on both MH&OH. The rest is up to what u want.
Talent
Might - more element damage.
Phalax- cap block affix.
Zealous - more speed and damage.
Prayer - Perfect combination for harmony+energy.
Stat :299 in power.
Heroic: [20] sprint, [20] sword throw, [20] Dexterity.
*** Sorry I don't really know how to make proper guide. So below is a link for the footage for the gameplay. And another sorry for the very very low quality. That the only way I can do right now since my phone are not rooted and outdated.
Enjoy!!.