Ok guys,
after a lot of inconclusive research about Ignore Resist, Weaken and Effective and how they play together/which is best, I decided to do the actual test to see which is which.
So I purged my Rogue from every complicated damage sources (basically used empty items), added Effective on a ring, used a second empty ring and did the same with Weaken and Ignore Resist.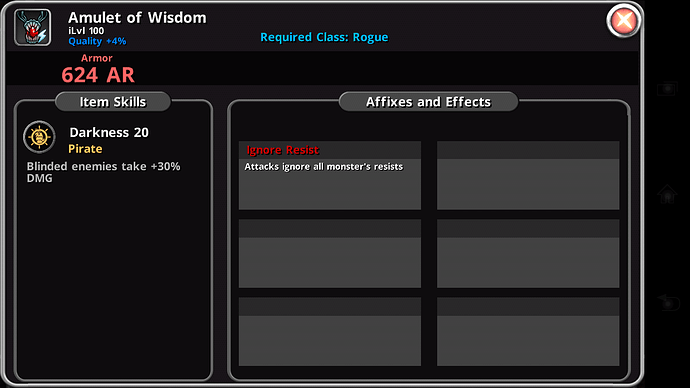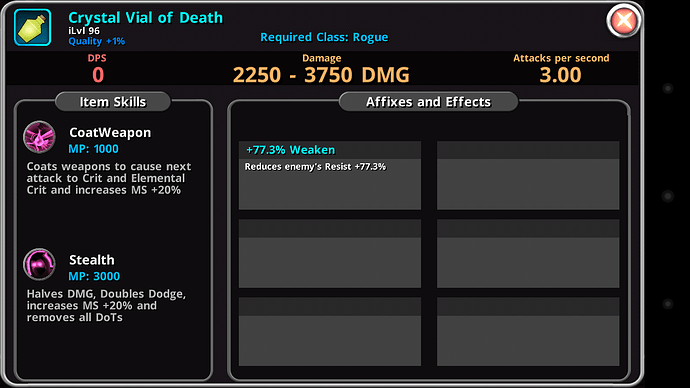 ---
Then I went to Floor 2, put them on each after the other etc. and looked at the damage I dealt. Here are my results:
Effective works as written in the text. Game-internally the usual weakness though is defined by -25% resistance (I'm pretty sure about that now, see calculations below). Therefore it is not a damage increase of 25%, the damage output varies with the actual monster's resistance and can be way larger or in special cases also a lot less.
Ignore Resist IGNORES the monster's resistances, as also already stated in countless other topics.
Weaken gives a xx% CHANCE TO DECREASE the monster's resistance by xx%, as never correctly stated by anyone in this forum. If you reach 100%, Weaken triggers always.
This means that the Weaken text in the picture above and the Dictionary is not fully correct. How did I test that?
Well, I spawned a Greatly Resist Poison monster from a shrine and Weaken on. As you can see (in the picture above), I have ~80% of it. Now I changed the element of my bow from Arcane to Poison. The poison DoT triggered ~80% of the time Weaken with "high" damage, and 20% of the time triggers "low" damage.
---
So, how do (or don't) all three work together? Here are my results:
Ignore Resist cancels out effects from Weaken and Effective. Which means, if you use Ignore Resist, neither Weaken nor Effective increase the damage in any way and are useless. (Weaken appears on the screen though, Effective does not.)
Weaken and Effective work together. No surprise there.
---
Mid, now could you please tell me which is better? Weaken, Weaken/Effective or Ignore Resist?
---
We all agree that killing Enslavers and Cartographers (or Epic, Legend and Mythic monsters) is the hard thing to do in the endgame. After I first put in some wrong info here (with totally wrong conclusions), the answer is not that easy. I tested again on a Shrine Monster (without Greatly Resist), see the damage values below:
236 with nothing on
472 with Ignore Resist (damage at 0% resistance)
589 with Effective
600 with Weaken
954 with Weaken + Effective
My explanation is the following:
-> The monster resistance is therefore: 236/472 = 50%.
-> Effective changes the element to the monster's weakness at damage calculation (-25% monster resistance): 472 * (1 + 25%) = 589 damage.
-> Weaken reduces the monster's resistance by 77.3% (50% - 77.3% = -27.3%): 472 * (1 + 27.3%) = 600 damage.
-> Effective + Weaken yield a monster resistance of (-25% - 77.3% = -102.3%): 472 * (1 + 102.3%) = 954 damage.
It seems like (crystal) Weaken is better than Ignore Resist, as long as its percentage supersedes the monster's resistance.
Effective + Weaken is a killer combo, doubling damage easily with 2 slots. I personally didn't know that, I always thought I'll take Ignore Resist and forget about it.
Ignore Resist is the "cheap" option, ensuring your nominal damage. Crystal Weaken + Effective increase your average damage further (without Ignore Resist obviously); best would be 2x crystal Weaken + Effective (although I don't know if a minimum resistance exists for monsters).
I still don't know what happens if the monster's usual weakness Element meets the Element of Greatly Resist Element, how great the corresponding resistance is.
I don't know how the Ascendent (5) -62.5% resistance works, if it always reduces the resistances by 62.5% when Arcane hits or represents a 62.5% chance for 62.5% resistance reduction (which could very well be).
Hope I could help,
as always:
Best, Mid

PS: Please correct me where if you see something wrong.