Hello.
I opened a map and both my main and hireling got instakilled, probably by an exploding chest/loot box.
That is fine, but then I could revive my hireling for 100 gold. All items in hirelings inventory where full of ?-items with bugged icons.
So, I just went to main menu and played another map. Then my hirelings main weapon was replaced with a bugged ?-item but other items where fine.
I quit again, opened another map and now my hirelings weapon is a level 1 sword.
That kinda sucks since my main weapon was this one here and I like it: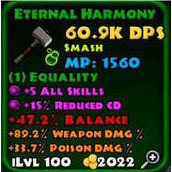 So, should I upload this saved game to the the cloud and hope that the support can revive my weapon or should I try upload an old save from another android device, download that (with the weapon) and write off whatever I have gained since then.
Is there some data in my account that could help the devs track down this bug. Losing items is imho a pretty nasty bug for a game like this.
Regards,
Kobbi