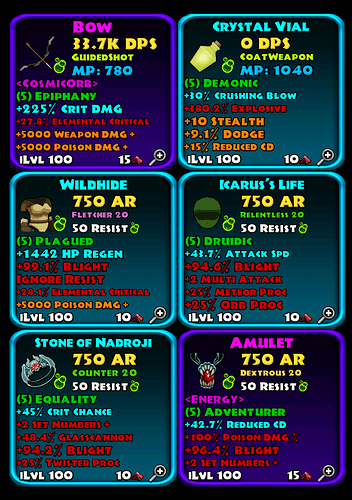 Welcome to my first post! I have been playing this game for a couple of years, but with quite big pauses. I finally decided to get involved with this forum, and I will start with posting a permastealth build. If you have questions regarding the build (or literally anything about DQ) just ask in the comments. I tried to marry Blightbog with permastealth and my own twist, so i will call this "Blightbog but with my own twist".
(Forgot my pet! It is an imp with 13,6% orbit, 9% Crushing Blow, 13,3% rediced CD, 8,7% dodge, 75% gold and 37.6% luck. It is trash, but none of the legend pets I have found fits this build.)
This build focuses on staying alive with Permanent Stealth, and damaging with all the tricks in the book. Crits, elemental crits, explosions, crushing blows, twisters, cosmic orbs, meteors, orbs and more. Here is a more detailed explenation of every affix, and an explanation of the current state of permastealth.
Permastealth:
To get this you need AT LEAST 50% dodge, 30 points in stealth and 75% cooldown reduction (Im using epiphany, which makes caps 25% higher. 60% max cooldown + 15% (25% of 60) = 75%). Hunger would also work, but less reliable) NOTE: Rogue gets dodge with power. I am level 82 (ascended twice) with all points in power. Just be aware of this.
Bow:
Cosmic orb for damage
Epiphany for higher caps
The rest is self explanatory
Vial:
Demonic for more damage to enemies under 25%hp
explosive for damage
reduced cd, dodge and stealth for permastealth
Chest:
Fletcher for DPS
Plagued for more DoT damage
HP regen for DoT damage
Blight for Elemental crit damage
Ignore resist is a musthave on every set
rest explains themselves
Head:
Relentless for damage
Druidic for DoT damage (HP regen from chest comes in handy here)
APS for… Well… APS
Orb and meteor for creating chaos
rest explains themselves
Ring:
Counter because you dodge attacks 24/7, which means that MANY of enemy attacks will be reflected
Equality for damage
rest is self explanatory
Amulet:
Dextrous because you (as I said) dodge so many attacks that you constantly get crit damage beyond cap
Energy cause of damage
Adventurer for damage
CD for permastealth
rest explains themselves
That was it! If you have questions I will gladly answer!