I'm a lazy farmer, i hate pressing the buttons too much. When I play DQ and farm I just use my warrior with full farming set to walk and loot while I'm doing something else, usually watching twitch. Hence, I came up with a hireling who does all the work = ) I could've used other weapons but I love pistol for hireling, farming and a little bit of hiking.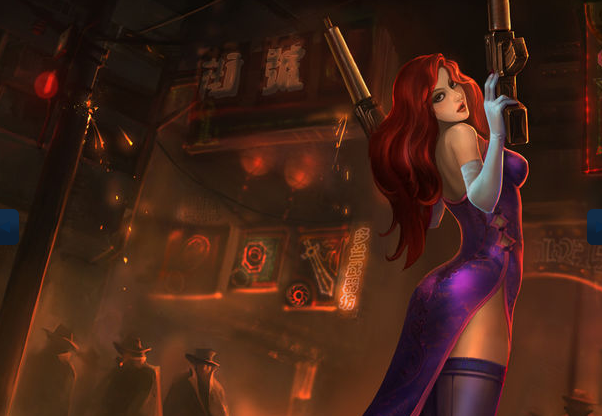 (Miss Fortune from League of Legends. They're every much alike)
Pros:
-massive range, kills the enemy before you even see them
-kills multiple targets, AoE damage
-fast map clear
-decent damage
Cons:
-somewhat weak against solo high rarity mobs (legend and mythic) at floor 2000+
-needs to stack fury to use stealth
-due to push the limit, it requires alot of fury to use stealth
[UPDATE] -with the recent nerf in crushing blow. This build will only be effective below 2k floor
Some info here might not be new to you, you might get bored reading the explanation but to help
the newbies i'll try to explain even the simpliest stuff here. Bare with me = )
---
VIDEO GAMEPLAY
---
ITEM CHOICES AND LOOT ONLY AFFIXES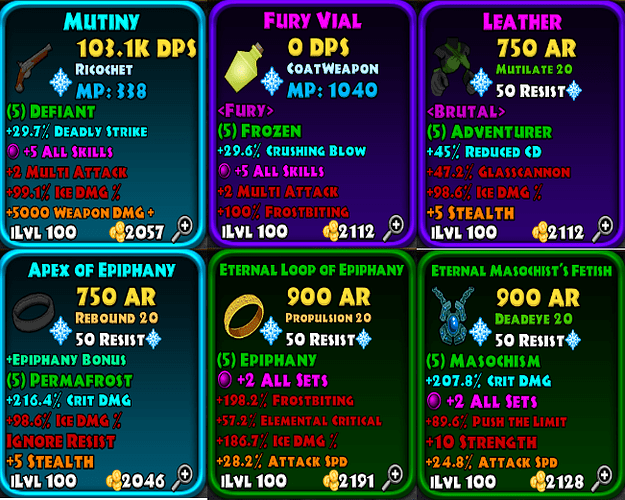 (Pet has Momentum Set Affix with Attack Speed)
As much as possible hunt for these items:
MUTINY FLINTLOCK ( or lance from warrior) - we need this for 100% ice damage and defiant
AETHER WARP - for 100% ice damage and/or 100% frostbite
APEX OF EPIPHANY - for epiphany bonus and 100% ice damage
LOOP OF EPIPHANY - for epiphany set, 100% ice damage and 100% frostbite
MASOCHIST'S FETISH - for set affix and push the limit
MUST READ
YOUR PET NEEDS TO HAVE ATTACK SPEED AFFIX FOR EPIPHANY BONUS TO WORK
YOUR PET NEEDS TO HAVE ATTACK SPEED AFFIX FOR EPIPHANY BONUS TO WORK
YOUR PET NEEDS TO HAVE ATTACK SPEED AFFIX FOR EPIPHANY BONUS TO WORK
(UPDATE)
-EPIPHANY BONUS BUG HAS BEEN FIXED IN PATCH 2.2
-IF YOU'RE GAME VERSION IS NOT 2.2 YOU STILL NEED PET WITH ATTCK SPEED AFFIX
---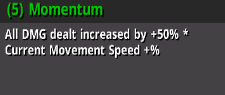 SET AFFIXES
DEFIANT - for damage boost and additional damage buff for missing HP that will
synergize with Masochism.
FROZEN - for AoE damage and chain effect explosion
EPIPHANY - so we can get the dependent affix bonus of + 70% damage and we can have
425 Critical damage that will be good for deadly strike and brutal (x3 critical damage)
ADVENTURER- for damage buff and movement speed buff that will synergize with momentum, coatweapon and stealth
PERMAFROST- for 50% ice damage
MASOCHISM- one of the efficient set affix, you get 37.5% damage from the set alone, no other affix needed
MOMENTUM- gain some more damage from movement speed as we already have adventurer and movement speed buffs from coatweapon and stealth
---
MYTHIC AFFIX AND RESOURCE SYSTEM

FURY - resource system was a bit challenging for this build because of push the limit. Ricochet is a spam skill it consumes alot of resource. The only efficient resource system that will not compromise other affix is Fury. However, due to Push the limit, you will need to fully charge fury before you can use stealth. Good thing is we have 40 Stealth so by the time your stealth is over and cooldon you'll have enough fury to cast stealth again.
This means you CANNOT use your mainhand's special skill.
BRUTAL - we have 425% crit damage, so might as well get the most out of it. with 50% deadly strike
x3 critical will be sweet.
EMPYREAN - I'm sure very few has this eternal amulet. You can use empyrean for additional damage multiplier
---
CRYSTAL AFFIX
MUST HAVE:
X2 CRIT DAMAGE - for damage duh
X1 CRUSHING BLOW - to help you easily kill higher floor mobs which has high HP
X1 ATTACK SPEED - for epiphany bonus
X1 DEADLY STRIKE - damage multiplier for critical damage
X1 REDUCE CD - for perma stealth
---
LEGEND AFFIX
100% ICE DAMAGE
300% FROSTBITE OR MORE
+4 MULTIATTACK
IGNORE RESIST
50% GLASSCANNON
-most of theses legend affix will help boost DPS and damage from Frozen
-get +4 multiattack for more bullets
---
PERMA STEALTH
-20 DEXTERITY HEROIC POINTS
-X2 STEALTH
-2X +5 SKILLS (ELIXIR)
-this gives us 5 secs stealth with 4 secs cooldown. You cant survive high floor without this
---
TALENT TREE
MUTILATE - multiattacks have 30% additional damage
REBOUND - +150% damage of ricocheted bullets
PROPULSION - for knockback, will help with high rarity mobs
DEADEYE - +20% deadly strike
---
AI SETTING FOR HIRELING

---
There it is folks. I know some players were looking for a flintlock build but couldn't find one or they think there's no viable or powerful builds for pistols. This has a decent damage, usually around 500M - 500B, you'll see tirllions and quadrillions. Hope this can guide you with your build if you want to use pistols.