The other character was an apocalypse chakram rogue who managed 4 mirror images and six furies in a match

haha!! umm, @dickwad, there are only supposed to be 1 or 2 Characters in the BA, not 1 or 2 Characters and a

+ Mirror Images & Minions!

nice work on these Builds! hope you can tweak them into Division 3 or higher!!!
If I go trickster for all my characters then I loose certain strengths. But mirror images are cool with swap on hireling for distraction.
This is my final build.

Thank you
@NUIQUE
. I have also reduced my bleed chance to 30 % deliberately. Why ? Good question

If your enemy has a bloodless trophy then bleed is rubbish but if they have a flawless trophy then 30 % bleed chance is enough.

You are welcome @dickwad.
Your craft is getting better and better.
I think you can still find ways to improve this craft but that is better left to your judgment.
Ahhh mate… Division 3. I will on!y learn from my defeats

Oooh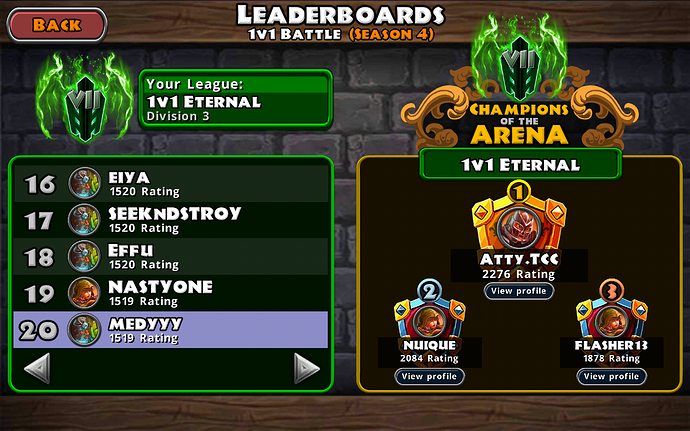 I haven't properly played or done anything for six months. I guess I got bored of the hard slog. But I must be doing something right
now you just need to do some tweaks to get into Div. 1 & 2! keep up the good work.
I'm going to try the hunger suggestion of @NUIQUE. I have an idea re the chest item. From now on I'm just making one item at a time and testing it on my build which is good. I'm also learning when to use or not use time warp and storm. They slow you down against fast enemies. Sometimes it's better just to vault and ricochet. Vault is very useful when enemies have cerebral vortex in play. You don't want to cast storm and time warp when torrents are coming.
I've been practising this build in the arena. I've decided the critical choice is to adapt in which order you use your skills against an opponent.Look at your opponent's strategy before you fight. Then take counter measures. Adapt always.
Made some changes today.
@Golem
?
haha, nice Eternal Rain!

. looks good to me, but what really matters is how it performs in the Arena

. anyone with Stun Resistance will ignore your High Voltage, but if you can survive any hits for your reduced HP to do tons of DMG with Blood Magic, you are going to have some very unhappy victims…I mean enemies.
if you want your Ricochet to do more DMG, replace the ED+ with WD+, because of the +40% Shock on Rain, but you might want to do the math first to see if that is better in PVP. don't forget to use Arena values when doing the computations

. basically, you are checking to see if going to WD+ gives enough extra DMG with the Shock% to overcome the DMG from ED+ being replaced. well, actually you are, because they are both +1040?, but the WD is getting more DMG from the Shock%, although your OH loses the DMG from the ED+. so it is up to you. stronger MH & weaker OH, or see how it does as is.
wow, just noticed that after you do all the math to see how much DMG your PVP Build does, the DMG gets reduced 95% on top of all Items scaled down to Level 20!
Epiphany set all the way.

will test out weapon damage. We both wing it. Thanks for the ideas.
Eternal rain pet! The moment I dropped it on floor 2 I thought "wow" and level it up. Never seen a greater pet.
My build maths is very simple. The more tanky they are then the more damage I do. All I have to do is stay alive to accumulate enough draws to wipe them out in seconds.on the downside my damage reduces if my opponent has low hp.
What can I do to improve this ?
not sure. it looks like you are down to doing tweaks and tests. maybe do a review of Immortal+ Builds and see if you can get inspiration.
Or just practising in gameplay. I'm just revisiting the codex for inspiration. I could lose overload but I like the blind effect. But then again it lasts one second. But one second against a charging opponent is helpful. Decisions!