impossible and I like that logo near the trophy who screen shot it?
Aw is he using hack to get that perfect roll?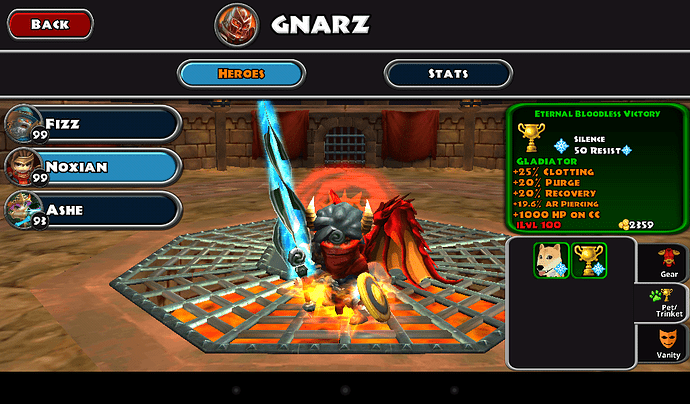 Lol the edit post, haha @versus
Anyway @badass u are really lucky having 2 really really good trophy coz yesterday I check your toon trophy its all perfect rolled. Today I check again, now its have 1 very close to perfect while the rest is perfect rolled.

@cronos4321 edit post to hide the logo

2-3 perfect roll is fine but 4-5 is kinda fishy

.
a moment later. his trophy probably have 3 almost perfect rolled lol
#just kidding

they even had a perfect eternal pet affix for pvp

(iknow its possible must been realy lucky)
@cronos4321 the worst move he did was posting that freakin 2sec kill over heavensaint tank warrior lol.
I have Almost Full 1 Page of eternal pet. And another almost full 2 with legend pet. From that almost full page with eternal pet, I only have 3 pet good using for arena due to 1-3 affix are useable, but to compare with the one he have. i feel so unlucky… T,T
he remind me to a cheater that said he not use cheat anymore but then he still lol.
@cronos4321 i feel u after farming 15 eternal pets. i only got 2pets dat are good for arena (but not all affix is suitable for pvp atleast 1-2 are worthless affix in pvp in my build). i guess being unable to beat coung ai motivates him to find other way to win.
Coung also have really really really good eternal pet. lol…
@cronos4321 cuz he was a cheater too. long ago he was move to ban league cuz of his 2 top pvp char got all modified eternal/crystal gear. i dontknow how he c back to legit league. but it seems he uses now leget affixes/gears (though im pretty sure he didnt even farm them).
im really shock when i check some toons in
the league der main is only 2nd ascend and yet dey had enough crystals to make decent pvp/pve build w/ perfect affix on eternal pet for pvp/pve
@Cuong27 too bad bro. just aim the top1 der (keep as updated)

Hello…


New enemy


Good…
@the.potter didnt know u guys are also active here in forum. (hiding from the dark)

@ The.potter you are not the person with the ability to build good. proof that you can not stay away coppy creative wizard pvp build my set

@roykiyoy yes that right

@Cuong27 bisa dibilang begitu , saat itu saya mencari inovasi , dan ketika saya melihat karakter heromu , saya merasa itu bisa menjadi inovasi untuk karakter hero saya, jadi , saya bukan mengcopy karakter heromu , tapi lebih tepatnya saya menyempurnakan menurut apa yang terbaik bagi saya.
( speak INDONESIA )
tidak ada kreativitas. apa yang saya lihat hanya salinan. Saya dapat membangun karakter lain bisa mengalahkan Anda proses yang mudah. bahkan Anda tidak dapat memiliki kesempatan untuk menang. untuk membangun penipuan yang kekal. Saya sangat sedih karena cuong28_qn_vn saya dugaan kecurangan. dan mendorong melalui pertempuran Kebajikan untuk penipuan. Aku memutuskan untuk meninggalkan permainan @the.potter