Use emerald to increase quality of the item to the fullest (25%) then use peridot to increase level. By then reroll legend and crystal affixes through diamond (as high as possible, remember having max quality and level of an item increases the chance of a perfect roll
Ex.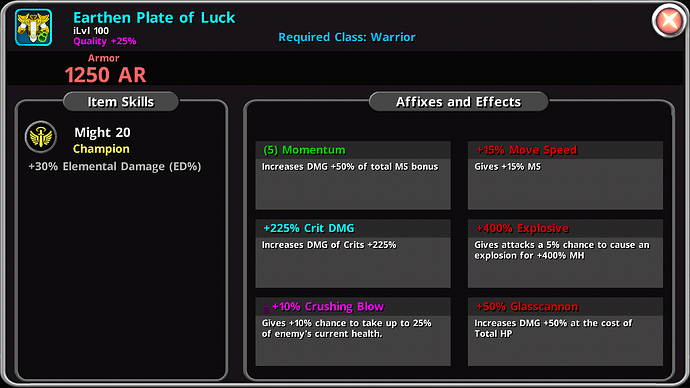 Although 100+ diamonds wont cut it but its better than nothing.
Also keep rare crystals such as emerald , peridot, zircon, garnet, ruby, amethyst and obsidian u are going to need them at higher floors
For mythstones: do not waste unless u know what u are doing, abyss, flight, elixir, master, return, Zenith, and time.
I can't find momentum set by usinq crystal i almost empty my crystal just to find that set
Yeah sometimes RNG trolls.
But momentum set comes on warrior items and using Amethyst.
If you have wizard item or rogue item, use the Jasper crystal to the item to turn it into warrior item and put Amethyst crystal.
Of course if you're running out , save up some crystals and even find some legends you may need.
You're welcome

.
wat about legend (element) damaqe % ? how to legend that affix ?
Find certain legends. It doesn't come out of crystals the 100% ED.
Legends that have it:
Cognition Ring, Aether Wrap, Aether Cover , Frightening Choker, Mutiny, Insolence, Frozen Shield, Arcane Blade, Entropic Jewel and Frozen Fate.
Also Seven Deadly Sins but those legends aren't worth using for any build expect for a full blown 7 deadly sins set build.
Nadroji Robe but that has Nadroji bonus despite the 100% Elemental DMG on it. But that used to be the staple legend for 100% ED before the bonus was added.
Wizard: Cognition Ring, Aether Wrap , Aether Cover , Entropic Jewel.
Warrior: Frozen Fate , Arcane Blade and Frozen Shield.
Rogue: Frightening Choker .
All Classes: Nadroji Robe , Mutiny, Insolence . Also Glinting weapon and Immortal weapon for Crystalline and Eternalized.
@undeadkramz214 and whoever wants to go slack. Of course ask Griffin or Skaul or both since they are admins of the group that will invite you after you've given said email to create an account there.
Deathgg has already joined and Thoricgnome . I will definitely help you guys in terms of questions and build feedback as well as generally chatting with you guys. It's speedy if that's what you want.
Give me a link please of slack download.
Message @Skaul your email once you got the app . Only way to actually get invited to group.
Who else wants to join slack?
please help for roque build in pvp





Get in here. This might help you.
We need that list updated tbh. If only…