i have 2m hp without BM but when i use BM my HP is going down to 1m only… huhuhu…
Are you using Glass Cannon or Barbarian affix? The max value on a legend gear in PvE is 50%. That means your HP would be cut in half of you are using either affix. If you are using either of those affixes, remove that gear and see if your HP increases or you can use dust to craft another gear without that affix to verify for you.
i use 1x Barbarian… but when i put barbarian my hp is still 2m…
It does this because you are changing the resource system to BM. That is why it's getting cut in half. Barbarian reduces your MP. BM converts all to HP which will half your 2M figure. Hopefully this helped clear things up.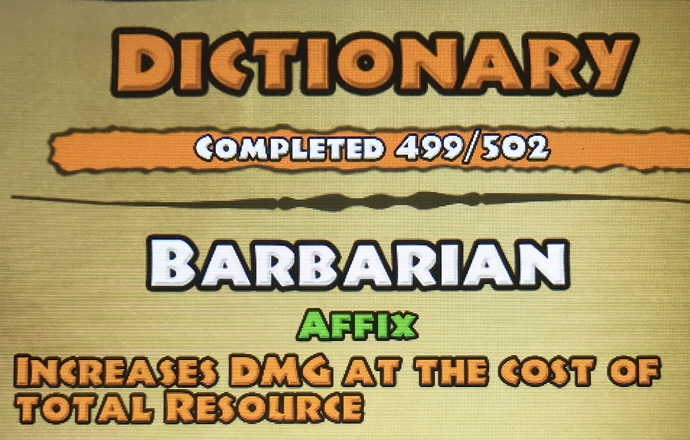 but if i dont have BM… my MP is not enough to spam my skills… what should i do sir plss help me…
if i use mythic fury… i cant spam my skill it is not good for me i try it… what other affixes that can give me more map and MP regen…
maybe the barbarian gives me a problem for my mp? and mp regen…
If you want to use fury, just build up your MP using your primary skills. Only 1x barbarian can reduce your MP pool by 18% in PvP and 50% PvE. This means if you use warrior, just charge everywhere until you have enough MP built to cast your special skill.

i use rogue chakram build… with cosmic orb mythic… and use vout primary skill to jump ang jump… that why mythic fury is not good for my style in pvp… what maybe affix that can solve my problem… ok wait sir i send you the list of my build… i dont have any picture sorry for that…
I suggest to change your fury into energy since chakram primary skill is less spamable and cost only 10℅ of total resource which is inproportional to its 30℅/sec recovery.