Hey guys. I'm relatively new to this game. I just started last December, but I got hooked so much I always found time to play. 

Anyway, I have read in one thread that you can get as a reward the eternal vanity back if you can manage to get to the top 3.
 Oddly, in my quest to get all the XP i need to reach Arena lvl30 (to unlock the angel aura 😇😇😇), I came close to the guys at the podium. Then I thought to myself "Well, I am just a newbie. I have nothing to lose. Maybe I can give these tough guys(well, their AIs at least) a try and see how far I might just go.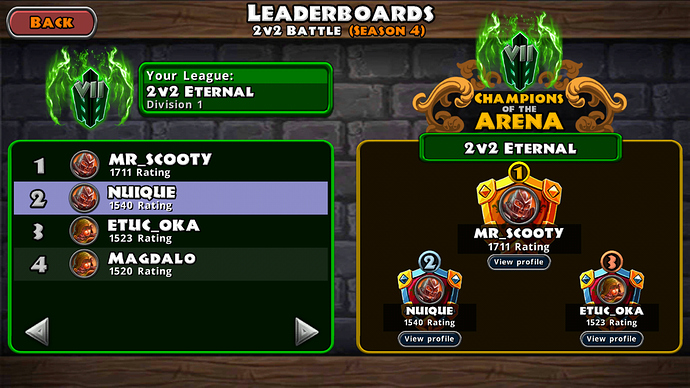 On my way here to eternal league, I have seen the beauty of the unlimited crafting possibilities. The immortals seem to start kicking newcomers at division 3. I also initially hopelessly lost to the discordance orb chakram users. Those camping anti-immortals are the real deal. Then there are those blood magic dudes that keep on killing my warrior. 🤕

In 2v2, there are times where I just have to kill the tanking character and wait for the time to pass. Most of the time, I don't feel like my CV triggers soon enough to reach those anti-imms before my warrior gets killed. We cannot take risks where the win is already yours


and you know it that those finely crafted AIs will really kill you!
Well I do not have much data left on my phone now and so I cannot upload my fights against the other characters, but surely the other players had their characters set with optimal stats for the job.
Special thanks to Mr. Scooty for the "Scooty Gifts".



They were indeed very helpful and they spared me much time so I can theorize for my own crafts outside the arena.
Now to my point. I do not have that back vanity in my inventory despite taking 2nd place.
Should I receive a message for it like the message we got when we received the Holiday Armor Skins?

Or is it just available for the top 3 guys in the 1v1 arena?
My podium spot probably won't live much long but I really would like to have one of those green smoking "VII"s on my warrior's back if you guys can help me about it.
Many many thanks to this community!
Many many thanks to the developers!