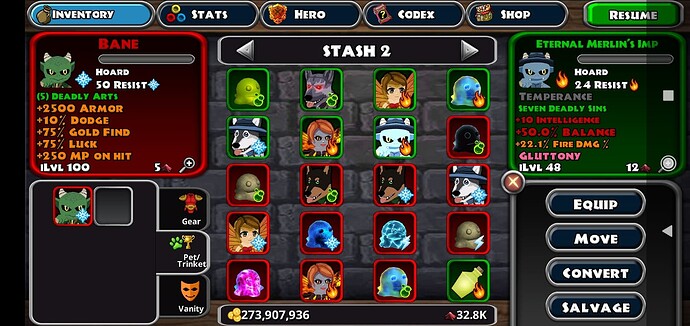 From 150 slavers feat. Only epic map floor 1300+, 1012(luck,goldfind), 6(eternalized,nadroji), full accession. heeeheee…
Join the merlin club. Congrats
I have 2 Legend Merlin's, and feel like It's going to be a long time until I get an Eternal Merlin.
congratz on your new Pet!
Congrats broooo. I'm still finding one :))

you could make a Seven Deadly Sins Farm Team with both Characters having an Eternal Merlin!
so jealous!!!
Wtf another 1??? Broooooos lucky asf
Congratulations!
Eternal Merlin's Imp still eludes me.
If I get one more duplicate eternal slime.


!!!
I'm using some of my spare Slimes as Pets for my other Characters. that Elements Set is pretty good for some Skills. I love it with my Rogues Chakrams Boomerang & Whirling Blades and Periphery Set.