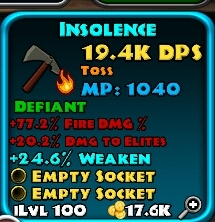 This is literally the first ever crystal rare legend I got in my entire life. I have got a few eternal rare legends but never a crystal rare legend until now.
I want to set a challenge though: collect every rare legend that can be crystal legend through crystalline and treasured ascension.
Crystal rare legends are: mutiny,insolance, ragnarok, vaccus scipio, nadrojis ring,nadrojis amulet and maybe some malestrom items.