Hello Guys! Im new here but Ive been playing this game for quite period already. Lets get to the point. This build is for farming and yet deals hell of a chilling billion damage.
*sorry newbies, this is a high reroll set.
*pros, sorry to disappoint but this build is not close to GREEN GARDEN damage but realy have high potential.
*Damage output so far (highest Ive seen) 1039.9 B but its really rare. But youll see 1B to 600B as common crit damage on Frozen explosion.
Basicaly this build will be using Frozen Set obviously.
Video: https://youtu.be/fLyCiYu3H3A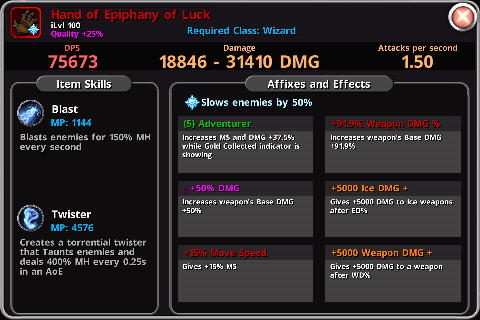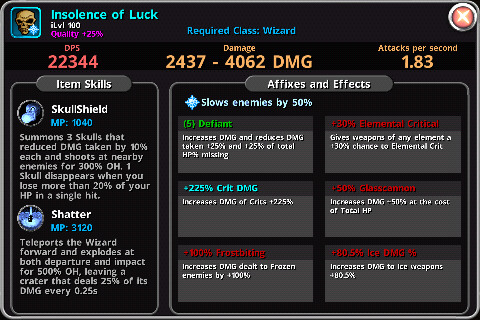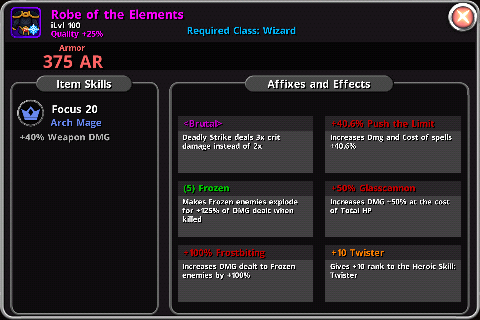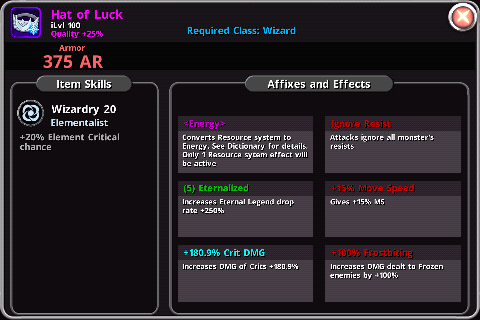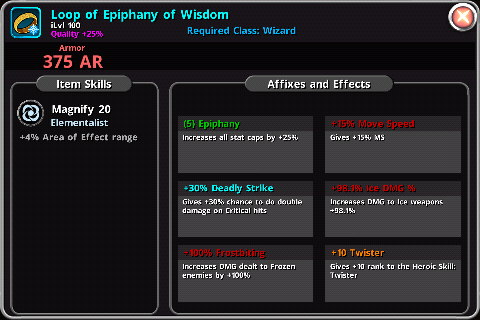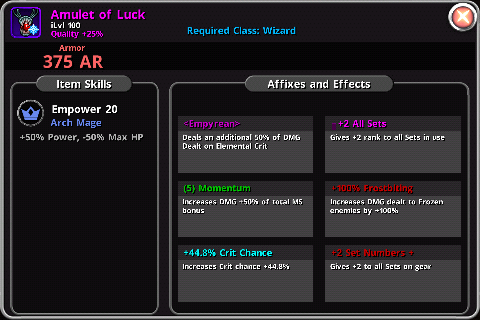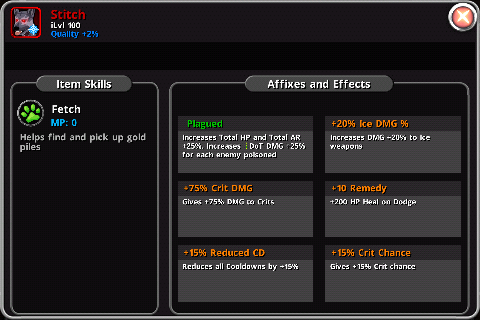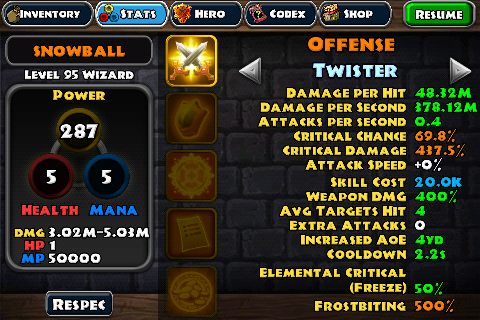 Contents of the item
*high main hand weaon damage (Guntlet is the choice here)
*frozen set of course
100% glasscanonnon
Push the limit
High Frosting
30 % elem crit
+20 Twister
Two 15% movement speed
High Elem Damage and crit damage
Ignore resist
Sets:
Frozen
*Momentum
*Adventurer
*Epiphany
*Defiant
*Eternalized (Farming build remember)
Natures:
*Your choice
Talents:
*Magnify
*Focus
*Wizzardy
*Empower
Weapons:
MH: Guntlet
OH: Skull (ambered to have shatter for quick escape)
Cons:
*PAPER BUILD!!!
*YOU DIE A LOT IF YOUR NOT GOOD WITH MANUEVERS
*HIGH REROLL BUILD
*HARD TO MANAGE SURVIVABILITY
PROS:
*deals ensane damage
*good with crowd control
*can kill epic, legend and mythic enemies within seconds.
*MORE ETERNAL ITEMS
*SKULL SHIELD acts as freezing mechanic actually rather than damage reduction since we only have 1 hp.
GAMEPLAY:
1.) ACTIVATE SKULLSHIELD THEN RUN AND SPAM TWISTER. use Shatter for quick escape. Get golds as much as possible for high damage output
2.) ACTIVATE SKULLSHIELD AND RUN AROUND ENIMIES. the damage is enough to freeze and kill them.
TESTED ON 800+ FLOORS.
Sorry Guys, Screenshots will be uploaded Later. I live here in the PH and internet really sucks and as well as my english. Do forgive me
how to improve this build?
currently, im experimenting on adding Barbarian Affix which is only available with few items. so ill be making new rerolls with different items.
pet is not included in this build actually. so if you want more damage, you can add Pet with Pathfinder set.
or replace Eternalized set with diffetent item with same afix but has different set affix like Masochism.
NOTE:
*there might builds that are similar to this build so lets stay calm and just grind harder. hehe
YOU REALLY HAVE TO PLAY LIKE A BOSS WITH THIS BUILD. I often times finish the room without dying. The key here is to manuever this paper Wizard wisely. Spam Twister appropriately.
*this Topic is not finished so wait for more update.
*SMILE FOLKS!
*VIDEO GAMEPLAY WILL BE UPLOADED TO.