Hello everyone, here is my COMPLETED GUIDE on how to craft gear with PERFECT stats.
In this guide I will include the uses of EVERY crystal, and the most efficient method of crafting something with every affix maxed.
The beginning portion goes into great detail about the crystals and their uses.
The end is the step-by-step process to make something that has perfect affixes all across the board.
This can be pricey, but with some luck and diligent planning, you can do it.
If you want to make something that looks like this: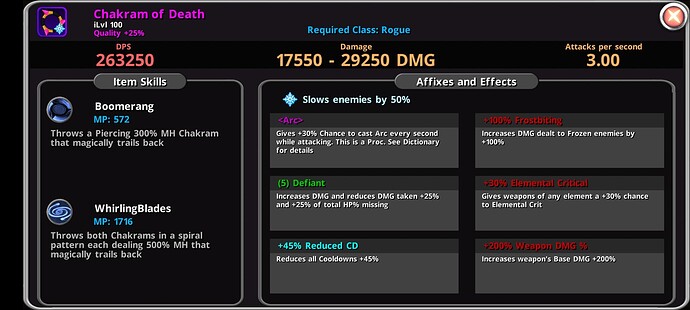 Then this guide hopefully gives you a general idea on how to do that.
I will first post all of the crystals here, and explain in detail what they're for and how they can be used.
CRYSTALS IN ORDER:
Calcite - Can change any equipment, trophy or pet into whatever element you need for your build, this includes eternals.
Angelite - Can apply any random normal or epic affix onto your equipment. Generally unused except in the early game to upgrade the gear you find.
Quartz - Used to remove a random number of affixes on equipment. This includes ALL affixes, including the "set bonus" affixes. Very nice to use when you're trying to craft equipment from scratch. They're easier to obtain than Kyanite, so use this instead as to not cause excess waste.
Diamond - Rerolls all affixes on your equipment EXCLUDING SET or MYTHIC affixes. CRYSTAL affixes and below will be rerolled. This crystal is amazing. This is the butter to our bread and butter. This is what you will use to create perfectly rolled gear, and maybe not the way you think. When we use this, we don't care about any affix except ONE LEGEND affix, preferably the one on any gear you get with an UNROLLABLE LEGEND affix; the wiki has all information for unrollable and rollable affixes. We need to get our equipment to maximum quality using an emerald, and that increases our odds for a maxed affix drastically. For example, Weapon Dmg% cannot be rolled for using a ruby. We will likely be removing all OTHER affixes (sometimes excluding a SET affix as well) regardless PRIOR to or AFTER rerolling the single legend affix you want to keep. Use the diamond until the LEGEND affix you want to keep is maxed out. In this case, 200% Weapon Dmg%.
Larimar - Used to reroll all normal and epic affixes on an item. This can be useful when you have multiple epic affixes that aren't maxed (unlikely since at max quality, it usually rolls maxed regardless.) A fairly cheap way to reroll your epic affixes to max without needing to waste a fluorite if they're ALL not maxed.
Kyanite - This is used to remove any ONE particular affix on your gear that you don't need. This is extremely important, and is the bread to our bread and butter. When you're in the process of rerolling for the affixes you want, this is what you'll use to remove ANY affix you don't want. At this point in time in your gear crafting, it will be too risky to use a quartz, so try to avoid that unless you're desperate. (I've been desperate before and I've won some and lost some, use VERY CAREFUL DISCRETION.) Please note that this CANNOT BE USED ON MYTHIC, CRYSTAL OR "SET BONUS" AFFIXES (not to be confused with SET affixes, which can be removed,) so be absolutely certain about the mythic affix you want on that specific gear as some are limited to specific TYPES of gear. Also keep in mind if you don't get the correct CRYSTAL affix you want right in the beginning of your craft, you'll likely need to start from scratch using a quartz. This is why I always roll my crystal affix FIRST on any gear I'm crafting, then move on from there. Note that your crystal affix does not need to be maxed in this process.
Sapphire - This is used to CHANGE an EPIC affix or below from one to another in the same available affix pool of the same rank. I generally don't use this, it can take a long time to reroll an affix this way, but ultimately can be more cost effective. When using a topaz to roll for an epic affix, you get a much larger pool of affixes to choose from. I will go into more detail about my method after this list is completed.
Fluorite - This is used to reroll one affix of EPIC rank or below. A very handy crystal to use when everything on your craft is perfect and the final epic affix needs a finishing touch. This usually only takes one try to get your epic affix maxed out, so they're rather cost effective and generally preferred over a larimar since they're both rather common.
Emerald - Mentioned previously, this is used to improve the quality of your equipment by 1% per use. This is extremely important. Using this to max the quality on an item is the ONLY way you can roll perfect stats. This is to be used only AFTER you have the correct MYTHIC affix, SET affix, and most importantly the correct CRYSTAL affix, otherwise you will have wasted all of these on something that will have to be cleared of all affixes to retry, and that can sometimes be okay UNLESS it had an important UNROLLABLE affix that you needed. Be absolutely certain your gear is PREPPED properly before using these.
Peridot - This one is used to increase the item level of your gear, fairly self-explanatory. This is a very useful crystal as rolling your max affixes will not be possible without gear at item level 100.
Beryl - This is used to reroll the nature of your gear. It is very important to have the nature(s) in mind prior to crafting. This is the "of (Death, Luck, Haste, etc.)" that appears in the name of your gear. When reaching the stat caps, knowing the nature you're going to be using will be able to save you affix slots later down the line. Note that natures are hidden stats, and you'll need to look them up on the wiki to get an idea of what each different nature does.
Citrine - This is used to reroll the "item skill" also known as "Talents" on a CHEST, HELM, RING or AMULET item. These are also important to keep in mind as they grant you unique bonuses that can sometimes be unfound and unrollable, such as DPS increases to specific WEAPON SKILLS. Have these planned out as well. You can see all the different item skills in your STATS TAB, and by clicking the TALENTS TAB in that menu.
Topaz - Our beautiful topaz—what we use to craft our EPIC affixes. These are very important, but we will not be using this until we are applying the last finishing touches to our crafted gear. When used, on an item you will get to choose from SIX different epic affixes. Even if they're none of the ones we want, that's okay. Choose a random one and we can remove it later. If you have multiple affix slots on your gear available and you're only going to be putting epic affixes on from that point onward, just use up all slots all at once. This saves time, and you can get lucky and find one of the affixes you need. Remove all others after, and keep trying.
Amber - This is similar to the citrine in that it rerolls item skills, but this time we can reroll the special skill on our OFFHAND and MAIN WEAPON. If you have a dagger with blink strike, you can reroll that to have ANY other skill available in the game. A very useful crystal for creating very particular builds!
Jasper - This is an amazing crystal; one of the best. This can take any item regardless of class type (warrior, rogue, wizard) and change it to any other one that you choose. If you have a WARRIOR item that has a warrior-specific SET AFFIX, you can change the class to your own, say, if you're a wizard, and benefit from that set affix with no repercussion. Extremely important, and very valuable.
Zircon - Another amazing crystal. This one can be used to add sockets onto your items. This is extremely important for one of the first steps of creating gear, and that's adding a MYTHIC affix, OR to apply sockets for MYTHSTONE affixes, such as +2 to all sets. You can understand how important this is.
Garnet - This is used to remove a socketed mythstone from your gear. Please keep in mind that this is NOT USABLE ON MYTHIC AFFIXES. Be absolutely certain about the MYTHIC AFFIX you want on your gear when planning. This can be useful when you've made a mistake on which mythstones you want on your gear and need to remove one, or if you want to switch up in general. I have rarely needed to use this, but it's a perfect tool to fix mythstone blunders while crafting.
Ruby - And onto our beloved ruby. This is used to roll LEGEND affixes. When your gear is ilvl 100, with 25% (maxed) quality, the odds of you getting a MAXED LEGEND AFFIX IS EXTREMELY HIGH. This is why we don't care about any ROLLABLE legend affixes in the beginning, they can be removed without worry at all. Which is the reason why we should NEVER TRY TO REROLL MULTIPLE LEGEND AFFIXES AT THE SAME TIME, the odds for rolling both at max is EXTREMELY LOW. You reroll just the ONE unrollable legend affix until it's maxed, and THEN use a ruby to get the ROLLABLE LEGEND affix you needed, which for me has a 85% or higher in being naturally rolled on already maxed. If it does not get rolled on your gear maxed, remove it and try again. Expensive, but this is the most efficient and quickest process. SIX options will appear per use.
Amethyst - This is how we can get a ROLLABLE SET AFFIX on our gear. If you are starting from scratch and have a set affix in mind, you can wait until the very end of your crafting process to put your SET affix on to give yourself more room to work with. This saves time by allowing you to do more chances at a time with certain other affixes. BE SURE THAT THE SET AFFIX YOU NEED CAN BE ROLLED. SIX options will appear per use.
Obsidian - Our masterpiece crystal. The hardest to get, the most valuable, and honestly the sexiest crystal in the game. This gives you your CRYSTAL affix. In almost every case, this is the first thing you want to roll for on a piece of gear EVEN BEFORE you start removing all other affixes. This is because if you waste all of your kyanite right away, roll for your crystal affix, and none of the FIVE OPTIONS available are any you need, the kyanite became unnecessary waste. If the item is FULL, remove just ONE affix and use this one. Your item does NOT need to be max quality, OR max item level when you do this. Obsidian can also be used to MAX your crystal affix nearing the end of your craft. MAKE SURE THAT BEFORE YOU PUT YOUR LAST AFFIX ON YOUR ITEM, YOU USE OBSIDIAN TO MAX YOUR CRYSTAL AFFIX. THIS CANNOT BE USED WHEN YOUR ITEM HAS FULL AFFIXES, EVEN IF YOU'RE JUST TRYING TO MAX THE CRYSTAL AFFIX ALREADY ON THERE.
Now, on to the real guide. The example I will be using is the Chakram Weapon I screenshotted up above.
STEP 1 - FIND IT OR CREATE IT FROM THE CODEX
STEP 2 - REMOVE EVERY AFFIX EXCEPT THE WEAPON DAMAGE AND DEFIANT SET SINCE THEY'RE BOTH UNROLLABLE. USE KYANITE. (Keep in mind that since there are only 6 affix slots available on any item, and you NEED 4 affix slots available to create 4 sockets for a MYTHIC affix, you must absolutely remove everything else EVEN IF somehow you had multiple maxed affixes that you already wanted. IF THERE WAS NO NEED TO KEEP THE SET IF IT WAS ROLLABLE, I WOULD REMOVE THAT TOO. IF THAT IS THE CASE, I WOULD ONLY REMOVE ONE AFFIX AT FIRST, AND ROLL FOR THE CRYSTAL AFFIX I NEED. IF THAT FAILS, I WOULD START FROM SCRATCH, AS IN START FROM STEP 1 AGAIN.)
STEP 3 - ADD THE SOCKETS AND CREATE THE MYTHIC AFFIX YOU WANT.
STEP 4 - ADD YOUR CRYSTAL AFFIX. IF THIS FAILS, YOU MUST START FROM STEP 1 AGAIN.
STEP 5 - USE YOUR EMERALDS AND PERIDOT TO MAX THE QUALITY AND ITEM LEVEL OF YOUR GEAR. IF YOU'VE MADE IT THIS FAR, YOU'RE IN THE CLEAR. AT THIS POINT YOU CAN ALSO GO AHEAD AND CHANGE YOUR, ELEMENT, NATURE AND SKILL OF THE WEAPON. (ELEMENT, NATURE AND TALENT IF NON-WEAPON OR NON-OFFHAND.)
STEP 6 - DIAMOND UNTIL YOUR UNROLLABLE LEGEND AFFIX HAS MAXED OUT. IN THIS CASE, REACHED 200% WEAPON DAMAGE. YOUR CRYSTAL AFFIX VALUE DOES NOT MATTER, WE CAN MAX THAT LATER.
STEP 7 - RUBY UNTIL YOU GET THE LEGEND AFFIX YOU WANT. IT WILL MOST LIKELY BE AUTO-ROLLED AS MAX IF YOUR QUALITY AND ITEM LEVEL ARE MAXED. IF NOT, KYANITE AND TRY AGAIN.
STEP 8 - NOW YOU HAVE ALL THE LEGEND AFFIXES YOU WANT. (Please keep in mind that if you're trying to roll for 3 LEGEND affixes, you must do this step before you roll for the third one.) YOU SHOULD HAVE ONLY ONE SLOT LEFT. THIS IS THE TIME YOU WILL USE YOUR OBSIDIAN TO MAX THE CRYSTAL AFFIX YOU ROLLED FOR. When you use your obsidian on the crystal affix you're trying to max, press accept. A list of new random affixes will pop up. THIS IS OKAY. Pick any random one, and this will ONLY UPGRADE the CURRENT affix you had originally.
STEP 9 - LAST STEP UNLESS YOU ALREADY ARE FULL AND ONLY WANTED LEGEND AFFIXES AND NO EPIC AFFIXES. THIS TIME WE USE OUR TOPAZ TO ROLL FOR OUR LAST AFFIX. THIS WILL MORE THAN LIKELY BE ROLLED MAXED TO BEGIN WITH, BUT IF NOT, IT WILL EASILY BE REROLLED WITH A FLUORITE TO GET MAXED. IF THE ITEM YOU HAVE IN MIND HAS MULTIPLE EPIC AFFIXES, YOU CAN USE FLUORITE OR LARIMAR TO REROLL ALL OF THEM UNTIL MAXED. AT MAX ITEM LEVEL AND QUALITY, THIS WILL ONLY TAKE 1-2 TRIES.
Sorry for all the caps. Anything that is capitalized is just due to sheer importance.
I hope this helps you. Good luck, and enjoy the game.