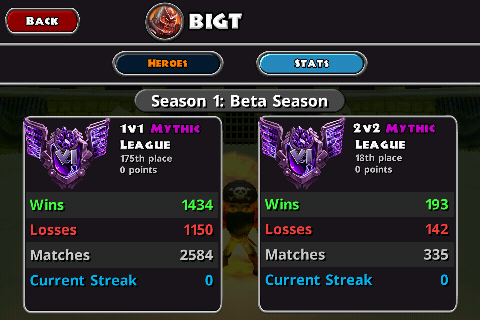 Heres pic of my 2584 th match in 1 vs 1
wow that's a lot I only have 208 wing 36 losses eternal league
302 W - 39 L
Eternal
So many games
its like your not even sleeping
… @Astarte … I really like this game
2584 matches since Season 3 was released 15 days ago. 172 matches per day. If run the table in all matches 3-0 and assume 20 secs per round = approx 3 hours per day, minimum. Approx 4 hours if win 3-1, 5 hours if 3-2.
Is my math off?
Wow! Stupid job is robbing me valuable gaming time LOL

Season 1 (Beta) 7-10k matches.
Uncertain on season 2.
Current season ~1200 matches.
That's a lot of PvP @BigT +1
15 days ago… I must have startec the day it began…i see it says season 1 but somewhere i thought i saw season 3 … Is this one or three? @Peacedog
The current season is season 3

Im around at 4.5k+ matches at eternal but now when i came back my record was reset at 128 games lol
lol do you guys still sleeping my highest record at pvp was only 500+ wins 200losses xD
Well considering normally a person get 2 days off and only work aprox 10 hrs (8hrs of normal work + 2hrs of break/commute/prep) the other 5 days a week, you are still left with 48 hrs of game time even after substracting 10 hours a day for food and sleep.
Who needs the food and sleep?
Up to 3105 . think im getting the hang of it but still leveling and ascending .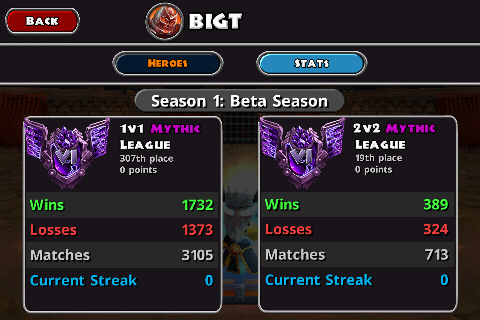 those win and lose still at mythic league
Well the current mmr system wont really let you go up. After a few thousand matches i can tell you how it goes . You will play people in your league gain 50 or so points then youll be matched with round after round of eternal league people till you lose . when you lose youll lose 11 placing you innew bracket . Youlk then fight a guy who just stand there and stuff for few rounds cause hes the current loser in that bracket. Then youll find some competition andyou may gain a few but youll prob lose as these guys are set up with whirlwind or richochet and cant be touched. This will just cycle over and over again. I play for the treasure chest as i cant gain rank or division. Hes a pic of last match i fought. As you see i beat people in the eternal league… And thats a league above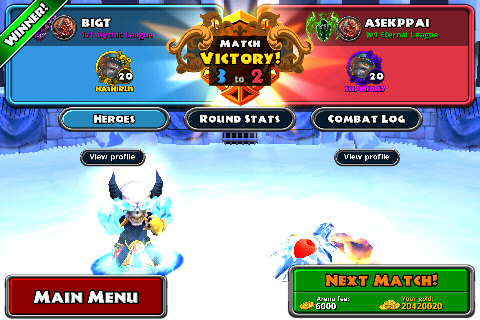 can I see what division you are right now @BigT
@BigT when i stop playin pvp for couple of.months i was down.to 1200 mmr in mythic league but just few hours of playin i easily reach div 1 and even reach top1 so i cant agree much about the mmr system not letting mythic league players go up
What I meant was because of how the system is and im currently leveling and ascending im not speced for pvp. So i do this loop thing in the rankings which leaves me basically the same rank.