Hello everyone! I have reached a point where I need other advice for improvement, help on decisions and advice to bring this built to the next level. ALL advice from this forum have always been a gold mine so far and thanks so much to this community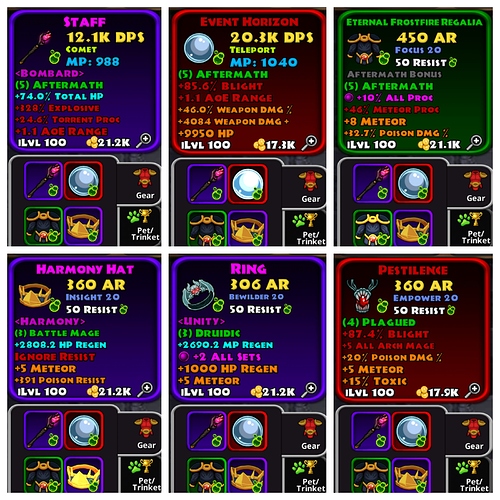 1 - I think that my next big upgrade is to add another +2 all set. Which affix would you remove to place it?
2 - Should I go with +dmg or +%dmg POISON on the offhand instead of the +dmg and +%dmg to WPN?
3 - Having to maintain +5 METEOR many time to reach the +40 METEOR MAX is costly in term of affix. Is it really worthy? (I think it is the base of the AfterMath built…)
4 - Is the Explosive affix THAT much of help?
5 - Should I go all out in POISON DMG and remove TOXIC / BLIGHT or the other way around? Or keeping a good balance is better?
6 - Any other recommendations / Next steps?
Thanks guys, much < 3 for to this community and this great game.