Is that with Epiphany (8)?
using a calculator… (650 x 1.4) + 200 = 1110% Luck.
I could be missing something, considering you have an extra 2%.
I cant rember qhat it is haha i do a video i have not played this in many years


Just got my gold find higher
The luck nature could be the reason
Luck Nature is counted as part of Lucks Cap. it could be that Epiphany (8) is a little higher than +35%, but I've never checked that out.
I think using 7 Deadly Sins Set could get Luck over Cap, but I've never checked that out either.
it's a mystery!
Max Gold and Luck for 1012% + Gold find start up screen bonus and a Luck shrine brings them to 1112%.
Depending on how many Epiphany, it can go higher.
Playing around with my gear I achieved this with an item drop shrine.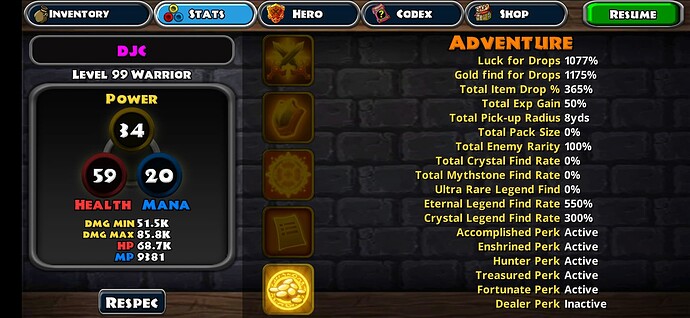 nice, thanks for the info.
for those who don't know, when you use a Legend or Eternal Map, they give Luck, Gold Find, and Item Drop over Cap, so it's best to use these with a Farm Build for the best results. this will be shown on the Adventure Map.