I'm new here, only allowed to upload 1 picture, and dont know if such build has ever been posted.
This build is for hiking higher floor like 3k+,with no luck/drop affixes inside.
The idea is: when you press still the primary skill button(basically u just need to PRESS STILL attack, guide the direction, and click stealth from time to time),you got chance to trigger blinkstrike,then you could also trigger clearcast/specialist/mirrorcast. Sometimes you could see that blinkstrike is triggered for 3 times.You would also teleport really fast with this build.In the test,for somehow,blinkstrike proc is less triggered than ninja,so i abandoned that. By the way,this build is relatively cheap, with some certain affixes so you dont need to roll many times.
On higher floors,we need more hits to trigger Crushing Blow.And crushing blow is barely boosted by other affixes/sets…Here i choose Electrocution(must have electro hits to stack debuff–> element set) Crushing Flames(must triggered with pyro elemtCrit) to boost CB dmg.Not sure if ruptured/exposed works. To get more hits, i got double strike/Draught/orb proc.And clearcast/specialist/mirrorcast to instantly cooldown skills.However during test, CD is not really 0, the skill button shadow still rolls. In fact these 3 affixes fit better when you have more procs. If theres a set similar to ninja to trigger orb i would choose it cuz orb constantly hits the most(10 hits /sec, torrent also considerable <=4*3 /sec).

Support affixes: desperation and MPregen. lv40 stealth and -75CD to guarantee that your stealth is constant.
There are some waste space like hyper armor(100+hyper armor dont really keep me immortal dont know why), pet's MPregen/bleed chance.Do move a epic stealth affix to pet if you like. All natures are haste. With a bleed chance on pet,none of talents is important.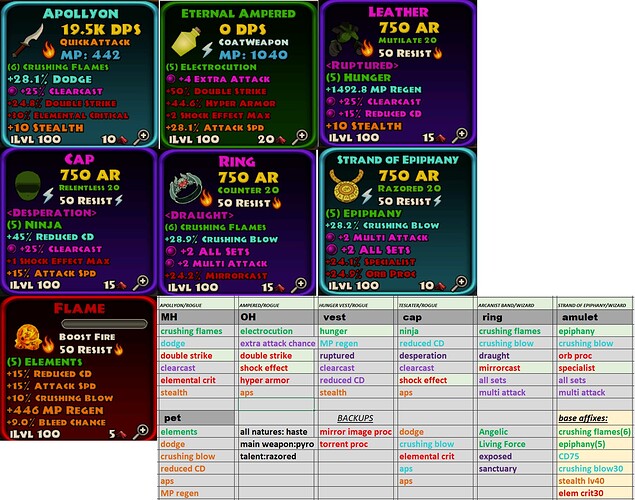 I got a clear chart for you, you could see
doubleStrike/shockEffect/3Cast…
are not "rollable". They are from certain equipements,i noted their names here.I basically make combinaisons with excel, its really convenient,so i wouldnt need to cost crystals in game to test ideas.
There are some optional affixes here. And the bone/base affixes for you(rogue),with only these you can already hike 3k+ floors(
Edit:
50+dodge). For other classes, i dont have good ideas. Like warrior with 75dodge & 95block & Sanctuary could still fall before mythic enemy. Maybe you could still have stealth as special skill in costing 2 more epic stealth affixes.
got another build idea about orb,TESTING, maybe post it later.
Any suggestions or questions? Let me know.