So i had been having some trouble trying to collet enough gold to get everything that i wanted. So i came up with a build that i could afford given my current stash of items and this is what i came up with: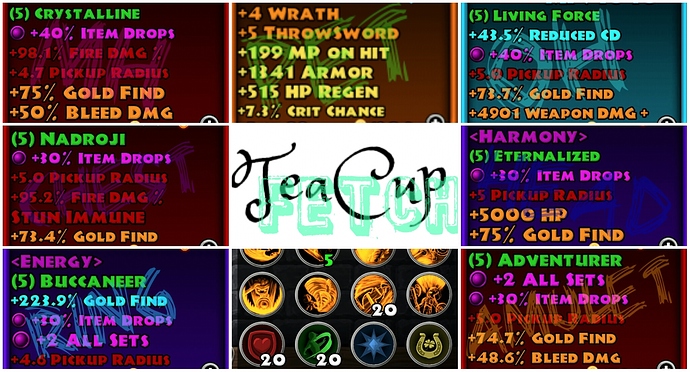 I like to call it fetch because i use a dog with it and its pick up radius is rather large. I wasnt interested in luck too much because i prefer to make my builds using my plans and not just with powerful items although they are nice, for luck though i set all of the items natures to luck and i got a 150% natural luck bonus (even better with difficulties) also i like the build because you never have to stop because you collect everything anyway and my affixes arnt even maxed yet.
I found the ring with the goldfind on so that saved crystals, the item drop mythstones also saved crystals and i had already partialy crafted the horn a while ago. The main peices that took a lot of crystals were mostly the head and ring but the amulet cost a little amythest too, bu overall not to difficult to collect the raw materials.
For the horn you might like to use HP 5000 instead of the cooldown rate if you dont have enough materials
I only use the pet dog for wraith as it destroys all obstialcles nearby and saves time on floors, otherwise just a well made dog will do.
My main attack is scalp since warriors are naturally good bleed damage users and my stats page says it does 1M damage per second and my scattershot says similar so overall thats 2M per second against bosses but normally its just run, spam scalp and not stop.
The build is for PVE only and not good in arena at all.
For anyone that prefers to copy plans or would like to see how i plan my builds, here you go


Ill answer as many questions you might have and i appreciate all feedback [both good and bad]