Hello guys. My build has evolved a lot since my last post Need advice - Aftermath build dying a lot! – thanks to all of you who contributed with a goldmine of information. I have passed from level 200+ to level 400+ . But now I am struggling to push the built further and I am stuck with a problem – every time I want to add something, I need to remove something else which can also have an important impact. Trial and error is costing me a lot of crystals; please provide advice! (Not screenshotted but I have a Plagued Pet).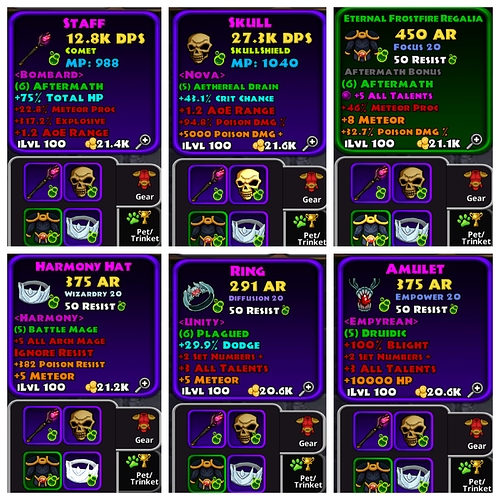 1 – I am dying a lot, I'm thinking of adding another +30 %dodge, would this be a good idea? If yes, what should I remove?
2 – Battlemage – Is this a good call? Combined with the other + dodge I think PathFinder could be a better choice. What you think?
3 – Druidic – Since I removed my +2k Regen on ring and amulet to replace with +Set and +Talent I am wondering if it is still a good thing to preserve. I am full poison and combined with Plagued it used to be great but not sure anymore. Though?
4 – Aftermath. It requires a lot of affix and with this setup I only have +34 Meteor. I think I should find a way to get it up to 40 but I can't figure out what to remove. Though?
5 – Any other advice? Thanks much guys I am kind of stuck at level +400 Epic/Legend.
Regards,