Hey everyone, firstly I'm sorry for my bad english, I will do my best to be understood

I'm currently in my 3th ascension (got the following perks: treasured, fortunate and enshrined)
But there is my problem: I want to try some PvE build found on this forum (like Fruit (LOOT) NINJA! PvE Build Reveal [Rogue] cause it's awesome)
So, I need a lot of ultra rare crystal to do this, that's why I did a farming build with the limited ressources I had but I need advices to optimize this, there is my build and my ressources: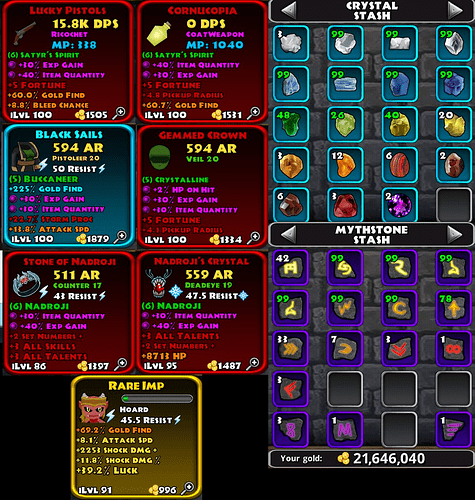 Currently, I'm farming with this build and a wizard hireling in floor 101-110 >+130% pack size (using à 100% proc meteor with taunt to clean the floor pretty fast)
My highest map is 362 M3, my wizard's build is not optimized to farm 300+ floor (not enough damage and resistance to rush) and I try sometimes to farm these to get eternalized pistol.
So there is my questions:
-What should I change in my build to be more optimized in exp and farming ? (I'm actually farming eternalized weapon)
-What perks should I take for my next ascensions per priority ?
-Do you know a build "low cost" for hireling optimized to farm 350 M3 floors ? (Got 2 rogue (1 is my main), 1 wizard and 1 warrior so I can use every class as hireling)
-Any other advices to help me in my farming ?
-Should I try to get 500+ M3 map even if I don't have enough stuff to farm these floors ?
Thank you for reading me and my bad english, hope you understood <3