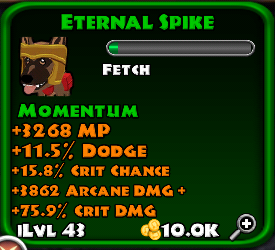 Farming low tier crystal at floor 100+ suddenly green text appear "Found Eternal Imp". Immediately open up bag, and its not imp but a hound. Still cool since I don't have spike in eternal ver. IDed the pet, hell 4 great affix with flat +MP. Why MP? Why!!!.

really hoping to get 1 eternal pet with flat +HP and flat +ED for arena usage.
Still like this coolnpet tho, fit for campaign mode. It seem like RNG don't want me to get more power in arena lol.