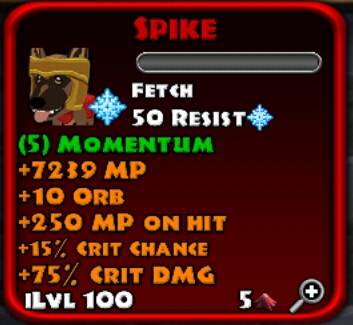 Very nice. RNG finally gave me +10 orb after many crystal tries on that pet. I also tested out Veil which was ok until you realise that Stealth halves all damage and isn't that good on Frozen.
I was also thinking about changing that 90% weaken into 45% crit so better chance of critical frozen explosions and brutal kicking in when deadly strike. Instead of 180% weaken, 90% weaken and better crit chance. I reprogrammed my warrior A.I to better provide ascendant arcane Debuff for me and the shock Debuff.
From 5000%+ MH with 10 Orb , Push the Limit, Multi Attack and Extra Attack to 7000%+ MH. If Timewarp were to still work on orb which it doesn't since orb isn't a projectile anymore, I could have had something like 10k+% or so MH and unbelievable damage. Stealth in patch 2.0 used to double all damage but I'm glad it's nerfed to halve all damage by 50% so I only use stealth on sanctuary mode or around so many enemies at once.
Also more hit frequency yes. Also orb on pet should work on the orb skill like how 6+ Torrent works on the Divination Amulet even if you use wizard in arena or rogue.