Welcome, my name is May Hemm. My BFF is Wildwood. She taught me well about (DQ) Alchemy. Now I'm here to share with you what she taught me, along with a few tricks of my own.
First off, everyone knows about character classes in this realm. Wizard, Rogue and Warrior. Don't prejudice yourself to one or the other. Trading items between classes can prove beneficial as I hope to show you.
This is simply an introduction. I thought about telling you some of the basics, but it is much easier to show you. For example. Golex's Gauntlet a very popular and powerful wizard item,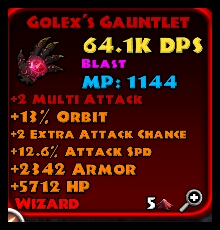 can quickly become with the use of a rare crystal either a Bow for Rogues;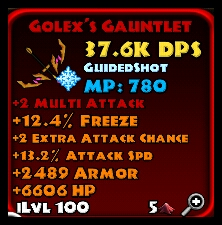 Or an Axe for Warriors.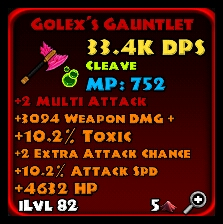 One item, three different classes. All because of Alchemy. Multiattack gets my vote every time, and Golex's Gauntlet has it!
These are just a couple of simple examples of (DQ) Alchemy in these realms. This is just an introduction, more examples to follow afterwards.
FYI: Golex's Gauntlet is also an Eternal.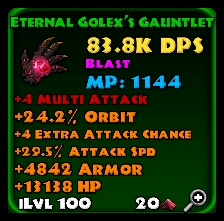 Just imagine. However, Eternals do have their limitations. More on that later.
Editors Note: This thread may seem like it is for beginners. The information in the future if not now supplied may surprise you. The purpose of this thread is not to tell you what is best. Rather it is to express the endless opportunities in this (DQ) realm. Stay tuned only if you want.