Hey all, this is my make it rain build. I'm a noob, so plz dont judge. It seems pretty effective at clearing floors and farming eternals; albeit i'm only @ 1K M3 and cannot attest to anything higher (though I'm not encountering much resistance)
The benefits- Unlimited mana pool essentially, super speed teleporting around, absolutely silly range with storm, etc.
I know this build could be better, but i don't know what to cut & am flying by the seat of my pants as I don't always understand the order at which calculations occur. Can someone offer guidance, suggestions, etc?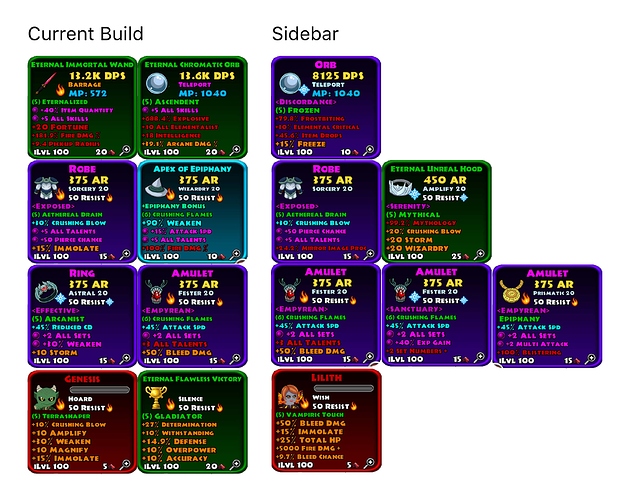 Notes, hypothesis's and Questions
Storm at +40 is a must (for CD reduction)

I have the lions share of eternals available for crafting

Is +15% immolate (or +50% bleed damage) better than adding cosmic to the build?

Are Imp loot benefits worth overlooking other options?

Where is the happy farming medium with this build? Should i make secondary class primarily farm?

Is blistering required to trigger bleeds? or does elemental crit have that covered?

If my armor is ice elemental, and it triggers mirror image, does that mirror image only cast ice? IE: can i use this to work frozen into the build?

PS: I have read that Arcanist, Ascendent and Effective doesn't work well… but I honestly have great success with it, and fail considerably without it.
---
Thank you in advance!