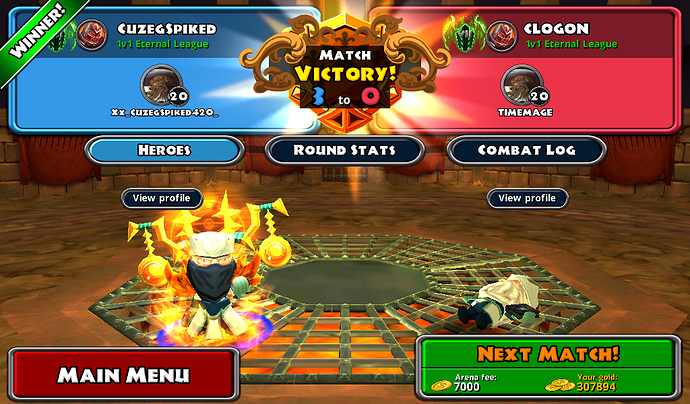 Just managed to beat clogon flawlessly this time. Last time I faced him today, it was 2-3 and I AM GLAD MY BUILD IS THAT GOOD!
This happens right after adding defiant guantlet and high dmg in my own build. My build is similar to clogon style except it does high dmg of fire, bleed, explosions from bombard/meteor/shatter, shatter dmg, meteor dmg, other procs. I had some idea taken off lohko and develop it to my own build. I am not showing this build I made because I think there will be a lot of clogons but more powerful and even better than me and that would really suck and I fear that if I share build.
It might be an AI fault but I think it still GREAT ACHIVEMENT to even win 3-0 against him let alone winning a point against him. Also this is the first time I won against clogon too!!! AI very good first time then terrible the second time then op as f*** the third time. It like that for everyone. Explains why sometimes I easily beat meepawn but other times, I lose terribly against him.
Also to note, my build only has 3k arena hp and that not usually a lot but I think its a bonus achivement to win against clogon with only 3k hp with vampiric touch being the only hp booster in my build and barley any dmg affixes. This demonstrates that you don't need tank build to win against him, just a powerful dps build with good survival. My survivability is high stealth chance which also doubles dmg, defiant which increases dmg reduction by 25% and sanctuary. Coat proc is where my op stuff happen like high bleed and other sort of dmg and a criticial streak in a second full of high dmg. This explains why I do so well against most tank builds but I haven't faced frustration build yet so I don't know how it will go. Extra hp is just a bonus to my build but 3k hp is all I need most of the time and sanctuary give 25% of that anyway.