This is my build. Hope to hear comments and suggestions. Thanks!
This is for easier viewing. lol
edited built as of JANUARY 03, 2016
Below was the picture of the edited items and skill stats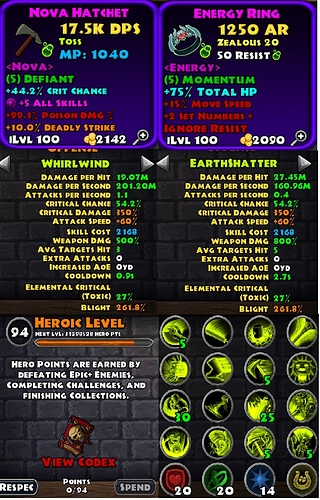 REPLACED AFFIXES
NOVA HATCHET
from "damage to elites(legend affix)" to "defiant(set affix)"
ENERGY RING
from "+whirlwind (epic affix)" to "movespeed(legend affix)"
SKILL STAT COMPARISON
WHIRLWIND
from "13.71 M (damage per hit)" to "19.07 M (damage per hit)"
from "145.43 M (damage per sec)" to "201.20 M (damage per sec)"
EARTHSHATTER
from "16.35 M (damage per hit)" to "27.45 M (damage per hit)"
from "96.36 M (damage per sec)" to "160.96 M (damage per sec)"
As reference from the previous built (picture below)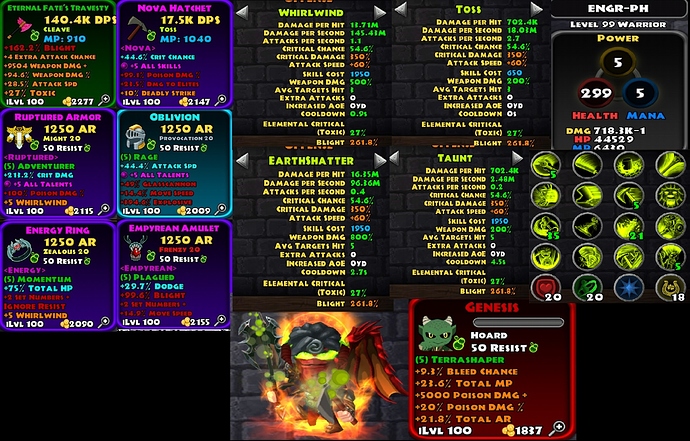 HERES THE UPDATED VIDEO AS OF 123015 (i think there were 2 deaths cause by the meteor mob.lol. the hireling was equiped with this built)

Okay now, a little explanation and summary description of this built. This build is effective for grinding or mob farming. Focuses on Whirlwind and proc of Earthshatter. This is an obvious offensive (hit and run

) built.
MH WEAPON:
Eternal Axe - was chosen for its great affixes and stats (also for whirlwind)
OH WEAPON:
HATCHET - was only picked because of the "poison dmg" affix. Have shieldwall as special skill (taunt or shatter can also be substituted)
CRYSTAL AFFIXES:
Offensive
Crit Dmg
Crit Chance
Attack Spd
Defensive
Total Hp - Picked to have a higher hp, (thinking of changing this one to block or deadly strike)
Dodge - chances to avoid deadly tnt and meteors
MYTHICS AFFIXES:
Nova - explosion that causes 100% elemental crit. would be helpful in dealing dot or poison
Ruptured - Additional 50% dmg for bleeding enemies. Great for tough bosses
Energy - mana resource! dont need to worry about casting spell (and additional dmg)
Empyrean - works with NOVA additional 50% dmg when you cause an elemental crit.
SET AFFIXES:
Adventurer - bonus damage!
Rage - Added defense and crit dmg
Momentum - i think almost every warrior needs this
Plagued - great damage multiplier
Terrashaper - great for additional attack and the probability are high because the proc works for hit and attack
Defiant - for more damage and damage reduction ! YEA!!!
LEGEND AFFIXES:
Poison Dmg x2 -
Blight x3 -
Set Numbers x2 - SET multiplier!
Glasscannon x1 - great damage multiplier
Movespeed x3 - great damage multiplier. Must be MAXED OUT
Explosive x1 - BOOM!
Ignore Resist - a must have!
EPIC AFFIXES:
Deadly Strike x1 - a good 10%!
Bleed Chance x1 - a must! in order for ruptured and frenzy to work. i needed this affix because the hireling was set not to use cleave. Very low chance but i think this is already enough
Poison Dmg+ x1 -
Poison Dmg% x1 -
Whirlwind x1 - chose this instead of "elemental dmg+ or dmg% because of higher increase in DMG,
Total Mp x1 - totally useless. lol
Total AR% x1 - a little help for defense
WeaponDmg+ x1 -
WeaponDmg% x1 -
Attack speed x1 -
*Extra Attack Chance" - sounds great. lol
Mythic Stones:
All talents x2 - total of +10 on talents
All Skills x1 - a good +5 on skills
Talents:
Might - Perfect for offensive built
Provocation - for easy grinding
Zealous - for additional speed and of course damage
Frenzy - i duno if this one still works with me but it should work well with bleed affixes
Nature:
I have only one nature and that is "Elements". Total of +30% Elemental Damage
HERO POINTS:
Strength, Dexterity - 20 each
Whirlwind - should always be on cap
Earthshatter - should also be maxed out
Fortune - 18 points (thinking of transferring it to intelligence for some resist)
AS HIRELING:
Set command was for whirlwind and shatter only
Whirlwind must be set to 10+ yards or more
Pro
can surely annihilate mobs in an instant. LOL
Cons
almost no defense. can die instantly as a hireling on m2/m3 maps with tnt and skyfall affix (and falling mobs. lol).
ill try to explain it more soon.