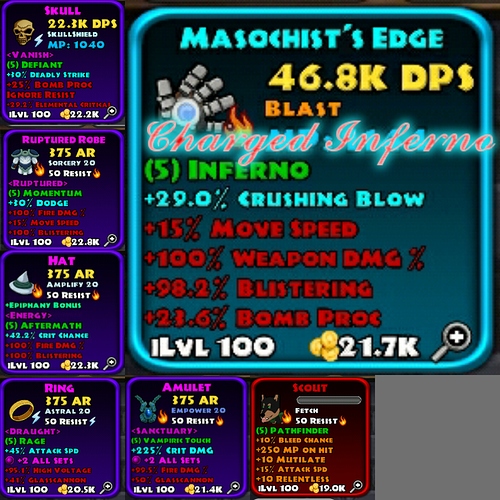 The concept for fire and shock is for enemies to be stunned/paralysed with stack debuff and then the fire attack gets multiplied by high voltage and stack debuff and that also means bleed is effected. I have went far into floor 1257 and counting with a build type like this.
Fire and shock concept was always possible but with the Inferno set and some other affixes, it's more damaging. Any build is capable of the fire shock/voltage combo as long as their main attack is fire and with pretty high stun/shock capabilities. Very good in PvE and for PvP, stack debuff and high fire dmg will be great for fire builds against ppl without perserverance.
Aftermath I chose because I was most familiar with the build compared to others but now I know how good it is to break the comfort zone.
I know some of you may say: "but arcanist builds are far superior and there's hachimon and green garden". That is true but I just wanted to play dq with a different approach. I love it so far, despite some challenges. I don't always like the really easy way.
Still, with an arcanist build, you could have fire and arcanist with high voltage to buff your attacks with any kind of stun.
Now I shall talk specifically about my build.
Set affixes:
Defiant: perma 25% increase dmg.

Momentum : 50% dmg but because  I have up to 90% move speed, it will be 45% dmg which is still quite big. I get 40% move speed from 10% dexterity +30% legend move speed. I then get 50% move speed from drought potion on top of solid 40% move speed for 90% move speed.  

Inferno: More 50% fire ed. Also, fire and bleed dot dmg gets sped up by 0.5 seconds. This means, instead of 40% fire per 1 second and bleed dot, they can deal dot dmg every 0.5 seconds which is essentially doubling your potential. 

Rage: For max crit dmg. If I had eternal pet  with 150% crit dmg, I would replace it with adventurer or mashochism or whatever  suits my build.

Pathfinder:  Increases  dmg by 62.5% of dodge. Since I have 50% dodge altogether, 62.5%×50= 31.25% more dmg.  The 31.25% dmg is permanent  too which is good. 

Vampiric touch: Increase  bleed dmg by 62.5%. That's  only reason why I want it. Very killer with blistering!

Aftermath: Just the style of my build. Meteor gives taunt which stuns enemies and the stunned enemies receive 100% more dmg to them thanks to high voltage.  Taunt also gets  many enemies effected at once by meteor and crater for high dmg, great for any map.
Fear is ok too. Shatter at 20 hero points gives 50% stun chance and the shatter can paralyse with shock. Faster I spend energy,  more dmg. 

Mythics:
Ruptured: I would always use that in bleed builds. Too good! Always  good to deal 50% more dmg thanks to ruptured because  when enemy bleeding, they suffer moar!
    
 Sanctuary:  Wise choice. Survival is already  high but it makes it that much harder to die. Empyrean is also an option too.
 Drought: 50% Move speed. Always good for momentum.  I do have to click potion alot but it's  worth it. Alternatively, syngery can also be an option for move speed,  but you will lose a way to get defiant (unless u use mutiny gauntlet or ragnaork). That's  why I chose drought. 
    
 Energy:  100% extra dmg  but not exactly 100%. Still,  I could get from 25%-75% dmg depending on % of energy left. Very good but just needs balance between gaining and spending.

Vanish: I just did it because  I can. Nice for survival . The blind is neat (smoke bombs do that anyway) and the occasional  stealth is useful. If you don't  need it, you could use nova, enigma or another affix.

Bonus: Epiphany bonus for 70% total dmg. Totally worth it

.
Natures: 4× haste and 2× of elements. Haste for epiphany bonus.
Talents:
Sorcery:  Give 100% dmg to element dot. That means,  fire dot will deal 80% dot dmg per 0.5 seconds instead of 40% and stack debuff can get 100% after 4 attacks instead of 50% (I think?).

Amplify: Gives 40%+ dmg for each  element dot. I think it means my meteor dmg will be raised by 40% on a fire attack like  the typical pathfinder or defiant.

Astral: 3% Ed of all resist.  Since my all resist is 1005, 3% of that =30.15% ed. Nice substitute  for might talent since wizards  don't  have might talent. Very good with resist shrines atm!

Empower: Increase power by 50% and reduce HP by 50%. My 7475 power ×1.5 =11212.5. Totally worth reducing  HP and major dmg!

Power: 299 for 7475 dmg. With empower, that gets me 11212.5 dmg from power to add to bwd. Super crucial for wizard.
Hero point: 20 meteor. 20 dexterity. 20 intelligence (1000 all resist good with astral talent), 20 shatter (optonal), 19skullshield (optional) or 19 fortune.
Epic affix (only from pet): 15% attack speed (epiphany bonus reasons) and 250 no on hit (for balance between spend and gain as its hard to cast without gaining as much mp). Others don't matter.
Legend affix:
3x blistering  for total of 298.2% blistering. The big focus after initial high dmg attack.

3× fire ed for total of 299.5%. 

1×  high voltage for 95.1%. Get them stunned enemies vulnerable  to 95.1% more dmg.

1× Ignore resist. I started this  build  at 2.2 but I didn't  know about the weaken buff. It's  up to you whether to keep it or use weaken. 

2× glasscannon. 91% dmg altogether. Could replace 1 with push the limit to make energy spending  easier but I will test further  to see if it's  really necessary. 

2× legend  move speed. Total of 30% and the 10% from dexterity for 40% solid move speed. Brilliant  for momentum!

1× 30% elemental crit

2× Smoke bomb. Total 48.6%. It casts everytime anyway. Makes mobs not see you sometimes, dodges attacks, and can blind them. Especially  helpful in maps with many bolts. I also wished the proc would  cast in whock because  my offhand is shock.

Crystal affixes:
1×  30% dodge. Survival  and good for pathfinder. Add to 10% dexterity and 10% default  for 50% dodge altogether. 

1× 30% crushing blow. Definitely  worth using to take a chunk of up and fire triggers this alot for faster take down, along with immolate and bleed.

1× 30% deadly strike. Double crit dmg always good. 

1× 225% crit dmg. That along with rage for max crit dmg.

1× 45% attack speed.  For Epiphany bonus.

1× 45% Crit chance.

Please note that shock worms are immune to high voltage so it will be less dmg. The normal worm mobs aren't hard because of crushing blow. The epic- mythic mobs though that are worms can be a headache if immune to high voltage but they're not immune to stack debuff and the bleed can still increase.
On most maps, it should be fairly simple.
Skyfall/tnt maps: That's up to you and vanish with smoke bombs and high dodge will be good protection.
Packsize maps: Smoke bomb, Taunt, Vanish and Sanctuary are good protection. Should be fairly simple as long as the energy goes down easily.
Leech nerf maps: fairly simple to do but be more careful anyways. It's actually a good buff to the build, though with some more challenge sometimes.