yeah sir.

Hi guys. I'm not sure where to report this but this guy with ign Ninja_Kick posted the he can get all vanities for free. Then he posted pictures of his toon wearing wings ang horns, we asked him if he have proof of purchase for those but he suddenly left our group in messenger. He's top 4 of div 2 in the eternal league
Welcome to the forum @yfer.
I will try to play and see if I face ninja_kick rogue again.
The ign, looked also suspicious to me.
@NUIQUE I've been reading this forum for a long time now without logging in or creating a log in.
Anyways, all of ninja_kick's gears are legit (I think so), however, his vanities came from hacking.
It is good that you can distinguish legit from non legit items.
However, if you look at the top of this thread, you will read somewhere that obtaining purchase-only items via hacking is also unwarranted and will have the same consequence as that of hacked items.
What is it that you want to happen to your buddy Ninja_Kick?
@NUIQUE He ain't my buddy😁. He's showing off his horns and wings. When we ask for his proof of purchase, he suddenly left the group. I just want to satisfy my curiosity if bought those or he got it via hacking.
I presume you are buddies because you have group messenger chats as you have earlier stated.
Well, I wish someone else can help satisfy your curiosity.
We have this small group of players. We somehow filter those who cheat or not. We teach em how to farm, get to the highest floors, create good pvp builds. We would ask for screenshots, leaderboard status etc. Ninja_kick was added by someone who's not that knowledgeable in terms determining legits from cheaters.
Anyways, I really hope that I would find out if he cheated or not.
the fact he was bragging about Cheating/Hacking and then left…well, it is good that he left. it's been awhile since the last big update, but I still find DQ to be really fun to play. not to mention I keep coming up with ideas to try different builds. @Yfer keep up the good work in your messenger group.

@dickwad lol, those Seven Deadly Sins cheat items are too funny, and you still beat them. that is the best!!! great hack report you sent in!
@Golem the deadly sins cheats are not really good pal. If I was a cheat I would have a little more imagination. Deadly sins relies on the set bonuses and increased chances of things happening. The cheaters truly don't understand the deadly sins set.
what I meant was that those items and the changes they made are so obvious that it is kind of funny.
I know you have done a lot of work with SDS Builds and shared a lot of info, and the rest of us can go forward with some of our own SDS Builds because you are one of the Pioneers of Good SDS Builds!
to be honest, the fact that the cheater didn't even make use of the SDS parts of the items makes me wonder why they are even playing Dungeon Quest at all.
Exactly mate @Golem. The 7DS is such a funny and unusual set that it's blatantly obvious that the hackers have no idea about the game or set. They want easy wins without involving any thinking.
This is extreme cheating.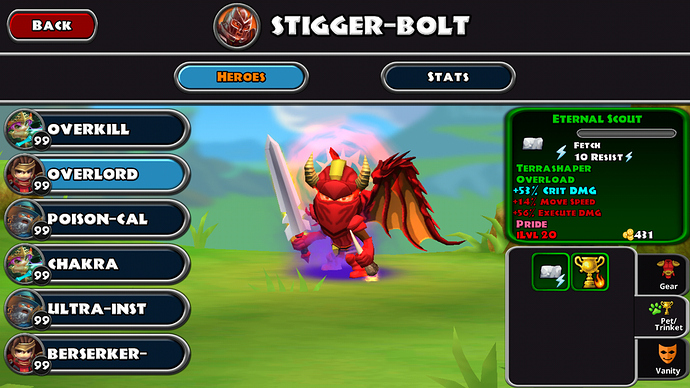 That negative health cannot die at all.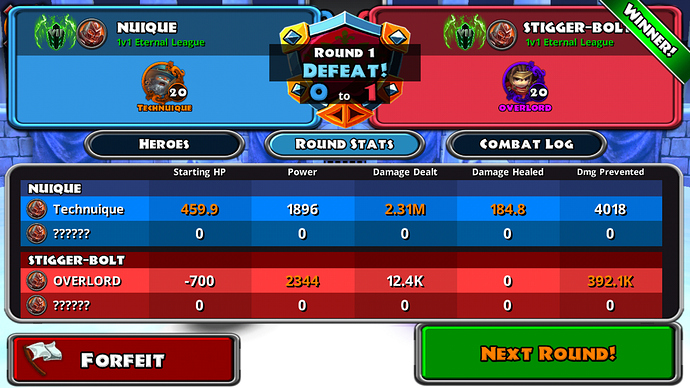 Anyone out there who wants the true immortal craft?

This one is even too despicable for the banned league.
nice, I thought Stigger-Bolt looked a lot like @SteigerBox . thanks for calming our fears and concerns @tdaniel .
@NUIQUE that Eternal Scout with 2 Sets and a Seven Deadly Sins Curse is crazy. not to mention a Crystal Affix & 2 Legend Affixes, and that Pet looks a lot like an Eternal Quartz Scout. wow, putting a SDS Curse on a Quartz, kind of makes me nervous. haha/lol, just noticed the -700 Starting HP!

x 10k.
to be honest, I have had an Overload & Terrashaper combo Build flitting around my mind for awhile, but not sure it would fit my play style.
I bet there were some cheaters saying 'woah! even I'm not crazy enough to do a cheat like that!'
Please remember to put the reports in the (report only) post. I do not look in this channel all of the time to scan for accounts I should review.