New update is comming🤩.
Thank you all leader's.
Yup For a PVE playing. Both player's can find or see each other in a One hole dungeon.
Increase the drop rate of crystals and mythstones.
But if this happened @HawkEye i think they should adjust the size of map and also numbers of mobs.
@freaky45 The key is the (Leader) and (Admin) if i agree for my suggestion's. And do the best for a many player's most active like me.
Thank you for your suggestions thus far. The window of opportunity will not be opened much longer if you have other suggestions for the next patch.
@freaky45 thank you for your recommendation(s).

I like this. Some requests cannot happen because you would have to write a new game. But some things can happen because it's minor alterations to the existing game programme.
People what you need to remember is game code. It mathematically decide where and when and at what level events happen. But to change the game is a major headache. Even more so when you are working on a sequel.
please include a more precise dps meter…oh please thy great one😁. i want to be able to know whether one skill is better than another in my builds. more often than not, i rely on the stat page but those values often vary and don't really include everything in its calculations. that would be so helpful when I'm at an impasse between different skills to add to my builds
or at least include a test dummy we can use to calculate it ourselves
If these happened on the next patch that players can see each other at dungeon, is it possible that items can be tradeable??
No to both @freaky45. Sorry but that is a bridge too far for DQ1.
Its okay @Mr_Scooty , Increase the drop rate of crystals and mythstones is it possible?
@freaky45 that is being discussed as a possibility.

The post below is from @Ariel
Being playing DQ for about three years, mostly farming, lately playing in arena. No idea how to reply a topic but want to make suggestion for DQ v3.1
First time creating an account since this topic is too good to let it pass. Being playing for about 3 years, mostly farm, lately arena.
Suggestion #1: New Imp pet with Crushing Flame, New Imp pet with Epiphany, New Imp pet with Nadrojy. All are Imp cause for PVE is really good.
Suggestion #2: Red pets available in Pet Shop in each category. Instead of the normal pet sell in shop, there is a chance to obtain a red pet from the Pet Shop sells, and there is a double increased chance if the pet is available with real money.
Suggestion #3: A small chance to appear a random red pet in the Vendor Shop each time you kill a Cartographer or start a new dungeon map.
Suggestion #4: Elixer increase rate.
Suggestion #5: Player in Division 1 get access to Black Vanity Back and New Vanities sells in the Vanity Shop.
Thank you for your suggestions @Ariel
@Ariel select the item I circled on the bottom right side to enable you to reply in the forum to posts.
Welcome to the forum @Ariel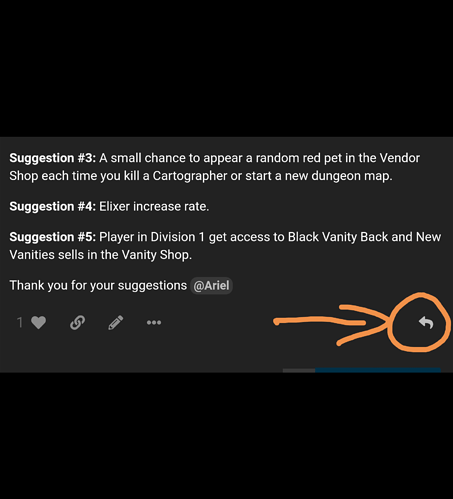 Thanks for the help, I can reply now.
I support you suggestions @Ariel, particularly the newer vanities and the new imp pets addition.
And one more thing:
Make pets unlockable and craftable at a relatively higher dust cost.
On a side note:
Your gif profile pic looks like a cinematic from a game trailer

Having the reply option is like being able to talk again

.