I did it because @Mr_Scooty guided me and teached me.
But still its not good like the trios.
I've tried making an Immortal build 4x and failed. I'll probably try a few more times before giving up.
Kudos to the three that made the full Immortal build and for the hybrids that do a bunch of dps. It's good for arena to have several types of builds.
I got crit for 70k today but I can't remember the name of the AI. It was not one of the regulars. Would love to see that build and see what I can steal to so I can do some big crits.
Yes, @marwinberna I guided you along the way but I posted the same information for all players (links below) that I provided to you.
PvP - Damage Reduction
---
PvP - Set Bonus Activation
---
PvP - How to Precisely Calculate HP & MP
My current build is not pure Immortal. It is Hybrid. It focuses more on DPS than DMG Prevented. Making this build doesnt mean I want to become Undead at Arena but I want to experiment more on Current Arena Builds.
Example: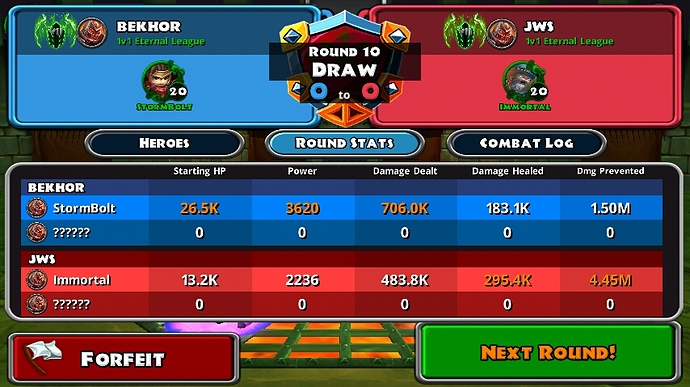 My Build is already Tanky when using a Warrior BUT when I use Wizard, its even more Tankier because of Skullshield.

Next build I'm gonna make is the 1M HP Warrior. I hope I get it. Im already at 700k HP😂
I made a theory test immortal build without their help - except knowing about bonuses , permafrost and many other things. The help to get to the stage where I know how many things can increase damage reduction and how to accumulate it quickly enough.
However , I did theory craft a build that could be very much immortal based on my encounters and it seemed that the build was nearly spot on. I haven't built it but I have a good idea of how. Although my theory craft version isn't as refined as the actual versions and it takes testing to really match it.
Arena looks really fun. Having to fight the same few chars everytime
May Hemm with her new affixes and items is currently climbing the Legendary board like crazy. Started out in Epic 2 days ago and is in spot 8 of legendary. Ever since her new affixes she has been undefeated. 10 or more straight matches won.

Yes.DQ is limited information game,people will finaly hit the nash Nash equilibrium point.Fate of almost RPG,even DQ is the best one.
Need fast updating or making some new rules to make pvp better.
I just copy my old post here. @tdaniel
It is time to release variety of customizable "pvp room".For example,current arena is a big room with rule "dr95% / lv20 / allow any pet / hiden equipments"
We can create our rooms to welcome freinds(Need new system) to play with rule "dr92% / lv25 / no pet / show x equipments"
Hope that will come ture.
Thanks for the feedback, if we are able to add those features as we continue to develop our new title we will do our best.
Thanks for playing and for being part of our community!