Newcomers might not know him but as far as I know he is one of the most generous and possibly the greatest craftsman in the Battle Arena.
If you are an old player, I do not even have to explain to you about his credentials. You should know him a lot more than I do. If you are a new player, chances are good that you will make use or is already using some of his forum contributions.
So I have been playing pvp insanely a lot since last month and I was able to monitor everyone close to the top rank through the matchmaking loops. That's hundreds of matches everyday so I pretty much touch even those in div2.
We know that Mr Scooty's AIs(Black Magic and Aswang) are the best all-rounders and that allows them to stay in the podium without him even actively playing.
Normally, if you are at the top, the six characters that you will be facing in the arena will roughly be the same with little alternations and swaps in between. The reason behind this is that you are not climbing the ranks anymore(obviously…) and the six you are facing are normally the 2nd-7th top mmrs.
Mr. Scooty was constantly within the six that I was facing. Starting yesterday I no longer face him. Maybe his AI got a lot of beating from other players right? Wrong.
I scoured the other players' mmrs to a point that I couldd have probably been playing with div3 guys to prove this could have happened but no Mr Scooty at all.
In 2v2.
Last week I was about ~400mmrs above him in 2v2 and the third spot mmr was even much far away from him.
Any change in his mmr would have fed the successor to the second or third place right? Wrong!
Etuc Oka was in third, his mmr did not change that much and Gameover took second who only played little. Mr_Scooty should still be in second or third place with that little player activity in 2v2.
His forum activity even speaks more: with his last visit last month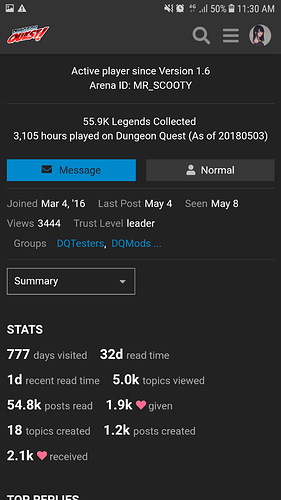 His AIs were benchmarks. And one can only possibly polish their own characters through repeatedly facing them. It is saddening that they are not there anymore.
Why is this?
Are all my speculations wrong?
Was he banned?
Or did he just ask the devs to remove him from the arena?
Edit: Battle Arena will not be the same again without him.