paano po mapapalevel 5 yung eternal affix sa item?
2x +plus 2 all set mythic. +2set legend affix
As much as possible please write in english so everyone can understand.
Gumamit ka ng mythstone na elixir or humanap ka ng item na may +2 set affix
(Use elixir mythstone or find items that have +2 set affix)
You will need 2× +2 set affixes and it can ONLY be placed in the RING and AMULET(when you are using elixir mythstone)
ITEMS THAT HAVE +SET AFFIXES
NADROJI RING AND AMULET
FRIGHTENING CHOKER (ROGUE)
hindi ko po magets gusto ko po kasi mapalevel yung eternal ko example po battlemage (5) ganto need ko po kasi pakilinaw po ty

Kailangan mo nga ng +2 set affix
Ito yung sa item na frightening choker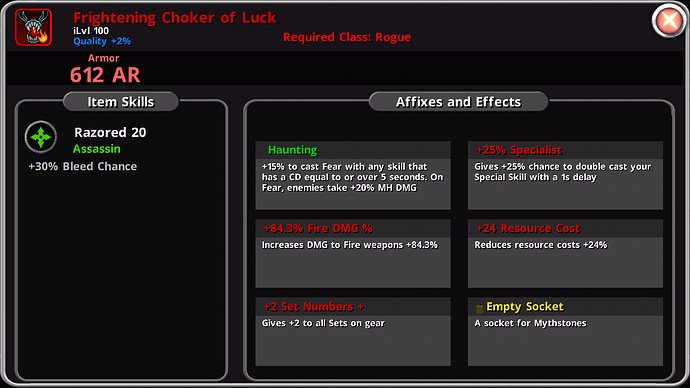 Ito naman yung galing sa mythstone na elixir na inilagay sa zircon( socket)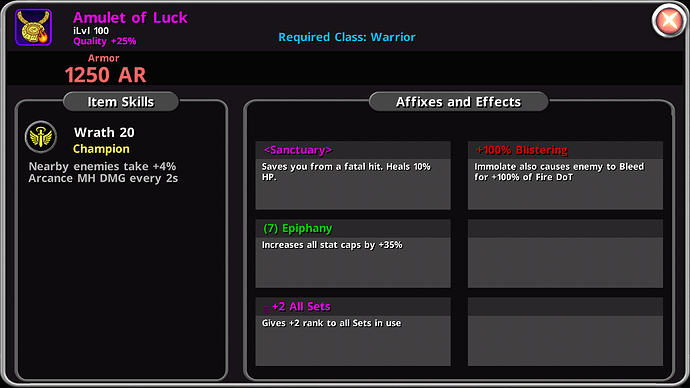 Gets?
gets ko na po maraming salamat sorry kung ang kulit ko hindi ko kasi ma gets pero ok na po salamat po ulit
d talaga nya na gets haha
Im glad somebody can speak Tang. I get lost just in Espanol, my second laguage. Which Im not very good at. Lol
I have many Philippines friends, so at least I recognize the language even if I didn't say it right. I love their "sour soup". Mixed with a little beef or pork, and poured over Jasmine Rice? Mmmm good.
I could show you pictures, but nahhh. This aint fb its DQ.

Its called "nilagang karne" and its very delicious!

let me guess, u also missing the legendary adobos here. ryt?
The US does not like immigrants into the US, they dislike people trying to leave even less. Maybe someday I will visit the Philippines. I firmly believe in the Tao, it is The Way of all Things even here on DQ. I hope this answers your question mark successfully. Ve con Dios
If by Adobes, you mean people who live in them. Hey, you are mistaken to believe that everyone in the USA lives in five story mansions. I have pictures that would make you glad to be living in an Adobe. I wish I lived in one.
But this is DQ, it aint fb.
I know a young Philippines couple I met, recently married in the US. They took one look at the squalor in the US, and returned to Philippines. Just saying… …people do not know until they get here. Remember Croatia, a lot of them have ended up in the streets.
Sad, very sad, be careful who and how you judge.
Nuff said, like I said this aint fb.
@Wildwood_Rose lmao "adobo" is food. He is referring to our delicacy in the Philippines. Adobe on the other hand is another story.