possible like that damage prevent. i think me and you all on going to death after that. hahaha
I was fighting an old enemy in the arena tonight called Spiritmancer. I won but I also loose often . The moment his minions detect your presence then you get swamped by a angry purple army of minions. I sniped at a distance to kill the summoner and win. Funnily enough when when victory was declared you could see my and his summons attacking each other in a fight fest. Was funny

I'm hoping this video plays
https://m.youtube.com/watch?v=7qOqh6v3waM Hey @Golem do you remember this

Our old deadly sins builds.
are those the SDS with a bunch of Procs? looked pretty good and quite fun to watch.
Yes. Lol with a cosmic power pet they would have even been cooler. It was before I dropped merlin.And hey mythic league

An achievement back then.
@NUIQUE I hope you like this low level PvP link . A build I made in 2 days for a six year old starting from level 1 very easy. Very low level PvP build . @Golem will remember it as @Mr_Scooty will. The kid fell out with the game and erased it. Last week I was surprised to learn not only had he reloaded it but was at floor 200 legend and was asking his uncle how to make purple things.

that distant thunder is getting closer. it might pass you up!
Apart from an unused rogue I'm just going to tweak my builds now. I'm quite happy. And it will not be expensive. The rogue I will have to strip back to the begining
After my day in the banned league I'm nearly top of legit eternal 1v1 division 4. Nice one.There are other tactics @NUNIQUE that our builds can employ which I use a lot. If your opponent is very highly tanky but fast with an annoyingly good cerebral cortex then don't use direct attacks. Just vault around the enemy casting time warp. The vaulting and time warp alone can spawn furies. So if your enemy is too busy chasing you and ignores your minions before long they are surrounded by furies

All the torrents are aimed at your minions .
Okay here is an old video of an hybrid I made. Lesson one is they are challenging to play. Lesson two is who doesn't like a challenge ? https://www.amazon.co.uk/photos/share/PQGq7p5ttPIRb6IwDvVTjkUtHgTEttKtbcUIevcU4vy/gallery/V9M6d6B1NU-uKJ_uoMrBvA Now while you watch this pay very close attention to the numbers of summons produced by an apocalypse weapon (which is usually 3) then count them. Pay attention to the colour of the summons. Then remember one golden rule. Everything stat your character has effects summons too. This is my extra gift on top on @NUIQUE guide

Just had a strange idea. 6 deadly sins. Projectile attacks with time warp and cosmic power
the downside is you only get Cosmic Power (1), so any DMG you get using Timewarp is only increased +12% I think. with a 6 Deadly Sins Build, you either have to use a Pet with a Set Affix that is useful with Rank 1 Set, or just use an Epic Pet.
TWELVE?!?










Hahaha

I'm trying to incorporate Epiphany on my rogues. I have a new idea now. It can't be the hat though. The permafrost bonus , in my belief , is critical for a summons army. Thanks @NUIQUE . My Badwolf has overkill on deadly strike thanks to pet. Strawberry fields takes dodge to the limit. Now I could just simply raise the caps with epiphany jewelry.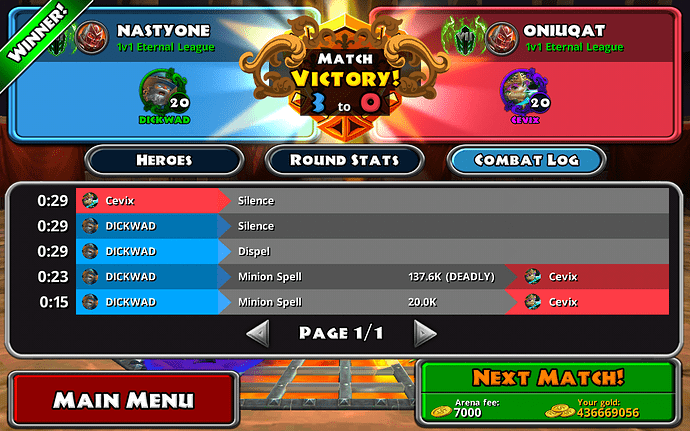 I accidentally put my farming wizard in arena. Just farming gear. No permafrost bonus. Final stats.
It's so nice and have a poweful crit deadly minion spell.

I'm stealing your A.I settings pal
Excellent, I managed to reach the eternal league with this build, but I was unable to activate the epiphanya bonus or the druid bonus
Welcome to the eternal league @KaimBR .