If I had a dollar for every useless duplicate Eternal slime …

@DJC
.depends on how good the affix within them…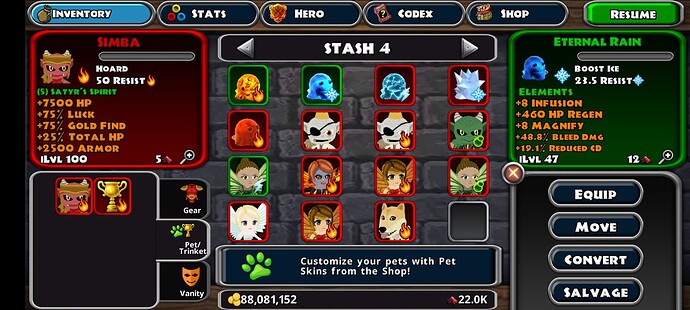 @DJC
.the ultimate luck doesn't even help with pets case…
.or maybe just me…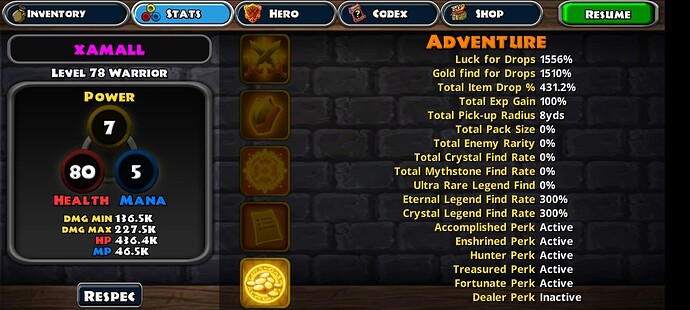 It's not just you. Too bad we can't use dust to purchase pets.
I got my legend imp pet "Rage" months ago
that Rain would be good for a Wizard Manashield build.
Luck does help with Pets. fewer Normal & Magic Pets and more Rare & Epic Pets, and a little better chance of an Enslaver dropping a Legend Pet.
as long as I've been playing, I still don't haven't gotten all of the Pets yet… but I do have multiples of some of them…
I'd take 10k Gold for every duplicate Slime…
one good thing for having multiple useful Pets is that more than one of your Heroes can have one without having to swap them around all of the time!
that Eternal Icicle!

I'd love to use that for a PVP Build… except someone would flag me for cheating…

@DJC
.less duplicate than mine…

@Golem
.I'm playing on floor 777 for ages, should i climb higher??
.i mean it could be the floor that gives me no luck…
.also i covert pretty much any non legend or eternal pets and crystal & eternal items for random crystal…
@Chris478
.noice dude…

if you are only farming, floor 500ish is the highest you need to go, unless you want an Item found on a higher floor and don't have enough Dust to get it.
Climbing Floors is kind of for bragging, ' Bwahahahaha!!! I'm on floor 10k +1!! Eat my dust slow pokes!!!' something like that. also, when climbing floors, you end up having to improve your build to survive and kill more powerful monsters, and learning more about DQ can only improve your game.
I prefer EPIC difficulty level on floor 500. Monsters are easier and I don't notice a significant decrease in the amount of loot. There are of course items that require Mythic3, and like you said, dust can be an issue.
Here's my brag … I'm about to reach 1M dust.

I Farm M3 just because I'm stubborn and maybe a little bit of a dummy, but many players Farm lower Difficulty levels just for that reason, easier monsters and you still get lots of CS, MS, & Gold. plus enough Legend Items to fill up your Dust and maybe convert to more nice CS.
@Golem @DJC
At first I was afraid, I was petrified
Kept thinking I could never live without you by my side
But then I spent so many nights thinking how you did me wrong
And I grew strong
And I learned how to get along
And so you're back
From outer space
I just walked in to find you here with that sad look upon your face
I should have changed that stupid lock, I should have made you leave your key
If I'd known for just one second you'd be back to bother me
Go on now, go, walk out the door
Just turn around now
'Cause you're not welcome anymore
Weren't you the one who tried to hurt me with goodbye?
You think I'd crumble?
You think I'd lay down and die?
Oh no, not I, I WILL SURVIVE
Oh, as long as I know how to love, I know I'll stay alive
I've got all my life to live
And I've got all my love to give and I'll SURVIVE
I WILL SURVIVE, hey, hey
Man…i need some motivation to keep on playing the game i stopped playing for two days now but its still on my phone though…its so nice seeing you guys progressed a lot😅
But still i will keep on playing…goal todays year is too reach floor 1000…im still on floor 247
@Golem is eternal icicle is really that op?
@Chris478
.this forum is literally my motivation…
.if you want more motivation, here ill give you one…
Immortal temptation
Takes over my mind, condemned
Falling weak on my knees
Summon the strength of mayhem
I am the storm that is approaching
Provoking black clouds in isolation
I am reclaimer of my name
Born in flames, I have been blessed
My family crest is a demon of death
Forsakened, I am awakened
A phoenix's ash in dark divine
Descending misery
Destiny chasing time
Inherit the nightmare, surrounded by fate
Can't run away
Keep walking the line, between the light
Led astray
Through vacant halls I won't surrender
The truth revealed in eyes of ember
We fight through fire and ice forever
Two souls once lost, and now they remember
I am the storm that is approaching
Provoking black clouds in isolation
I am reclaimer of my name
Born in flames, I have been blessed
My family crest is a demon of death
Forsakened, I am awakened
A phoenix's ash in dark divine
Descending misery
Destiny chasing time
Disappear into the night
Lost shadows left behind
Obsession's pulling me
Fading, I've come to take what's mine
Lurking in the shadows under veil of night
Constellations of blood pirouette
Dancing through the graves of those who stand at my feet
Dreams of the black throne I keep on repeat
A derelict of dark, summoned from the ashes
The puppet master congregates all the masses
Pulling strings, twisting minds as blades hit
You want this power? Then come try and take it
Beyond the tree, fire burns
Secret love, bloodline yearns
Dark minds embrace, crimson joy
Does your dim heart heal or destroy?
Bury the light deep within
Cast aside, there's no coming home
We're burning chaos in the wind
Drifting in the ocean all alone