Posts y'all FASTEST MSPD! Or someone can create the FASTEST Hero in DQ!
.my current movespeed, i believe we can add more especially if we use sprint + shieldwall skills, also some talent add passive ms temporary…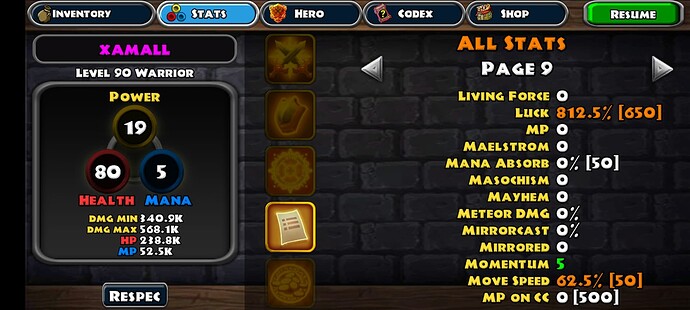 I typically go with 62.5% as well, with Epiphany (5). I tried maxing my MS with Epiphany (7) and sure enough, it capped at 67.5%. It will go to 70% with (8).
@Golem, I also use Adventurer and increased MS talents in addition. Will this translate to more MS and Momentum set damage above MS cap? I feel like it does, but I have been known to be delusional.
Movement Speed has a total Cap of +100%, +50% cap for MS affixes. Movement Speed from other sources could be used to get to +100% without using affixes, and Epiphany affects the cap of MS affixes only.
you could have +62.5% Movement Speed affixes on your Equipment and another +50% from other sources.
found this with a Search
, hope it helps.
if you have the Direct Boost mentioned in the Post, but no Skills to get the other +50%, you could use Draught Mythic instead (I did this with a Momentum build a long time ago. I usually used Draught when going against Epic+ monsters or tough mobs). it replaces your Potion button but you get the +50% Movement Speed and +50% to APS. Draught has a 5 second cool down and lasts for 5 seconds (as of Patch 3.0).
Hollyyy you'r Speed are crazy! Pro MSPD are insanee
.sure…
.unfortunately I am the only one who "actually" post my build…
I posted mine a few daya ago … actually!

Well i meant- sharing is caring xD
Hello,
My fastest build. Not with Sprint but with Charge. 0,1s CD. Once, I even escape the map passing through the wall


And I agree with you, when we want people to share, they share advices but rarely there own build like if they are not proud of there creation or like if they just have farming and pvp build without other crazy build.
@Deathbro
.i know right…

Charge and Scalp ia the ultimate farming combo. I get an average of $3M gold per map on a single chain and 25 - 40 Legends.
My name is Daniel, and I'm a farmaholic.
Farming Fun!
players can do Fast Farm, Bags of Gold, Fast Enslavers, Bags of Legends & Eternals, Raining Crystals & Mythstones, Climbing Farmers, Quick Kill Farmers…
Such a simple game, yet with endless possibilities.