Badwolf league rankings with the addition of some simple mythstones for weaken and removal of summon damage to accommodate .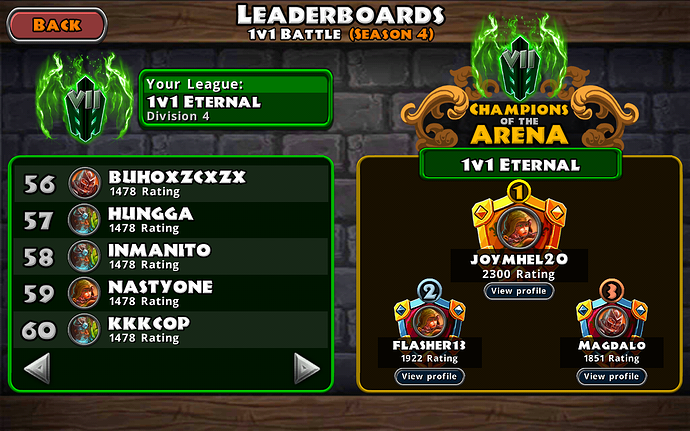 Thinking of a cerebral vortex ring.have heard there's no active players in 2v2 so I'm sticking to 1 v 1. In 1v1 eternal I getting offline matches so my ranking improves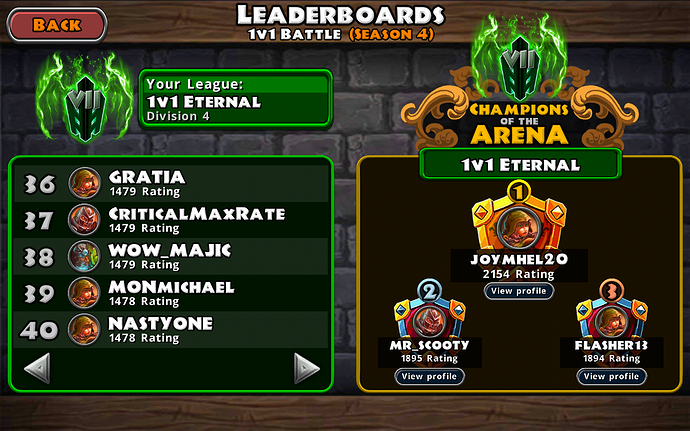 now I was thinking about abandoning 2v2 league because it's full of cheaters and very few active players. I have reconsidered. It's a perfect place to tweak characters before entering the modified characters into 1v1 live play. Why risk loosing divisions on an a active league when you can test on a over powered redundant league ?
Just summoned 6 furies in a 1v1 match. Happy win

All
I must have missed the bottom of this post last time I read it, but that is a great idea for testing without messing up your Rankings.
your opponent must have been furious having their victory blocked by so many Fury's.
Six furies in gameplay with just an apocalypse rogue. I wonder if appocalypse can only spawn more than 3 summons if the next 3 summons spawned are different somehow from the previous 3. Now if it was just based on them being a melee summon or magical summon then you have a 50% chance of spawning either like flicking a coin for heads and tails. If you get heads followed by tails you get 6. Then you only have 30% of spawning furies at all. Then let's say if you spawn another tail then you loose 3 furies. Just an idea.
My pet has the elements set affix so if summons are element based and my previous idea applies then the possibility of spawning six furies is like winning the lottery
that would be a nice test. Summons are the same Element of the Weapon they are summoned from, unless Prismatic is in effect. if they are from a Proc, then they are the Element of MH, unless Prismatic is in effect.
Okay the topic off six furies in PvP 1v1. I've witnessed on two rogues. So I've compared their builds. Three things jump out of me. Both have hp/mp regeneration from harmony hat with permafrost bonus which means your furies regen to. The last factor is 4 extra attack. Badwolf summoned 6 twice in one contest while I was using pistols.

The other character was an apocalypse chakram rogue who managed 4 mirror images and six furies in a match

haha!! umm, @dickwad, there are only supposed to be 1 or 2 Characters in the BA, not 1 or 2 Characters and a

+ Mirror Images & Minions!

nice work on these Builds! hope you can tweak them into Division 3 or higher!!!
If I go trickster for all my characters then I loose certain strengths. But mirror images are cool with swap on hireling for distraction.
This is my final build.

Thank you
@NUIQUE
. I have also reduced my bleed chance to 30 % deliberately. Why ? Good question

If your enemy has a bloodless trophy then bleed is rubbish but if they have a flawless trophy then 30 % bleed chance is enough.

You are welcome @dickwad.
Your craft is getting better and better.
I think you can still find ways to improve this craft but that is better left to your judgment.
Ahhh mate… Division 3. I will on!y learn from my defeats

Oooh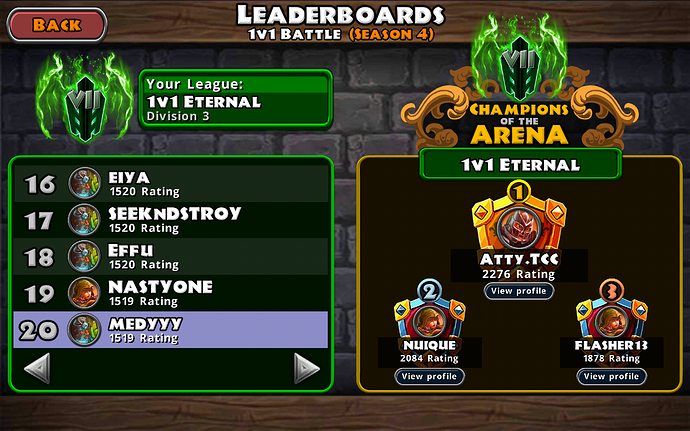 I haven't properly played or done anything for six months. I guess I got bored of the hard slog. But I must be doing something right
now you just need to do some tweaks to get into Div. 1 & 2! keep up the good work.
I'm going to try the hunger suggestion of @NUIQUE. I have an idea re the chest item. From now on I'm just making one item at a time and testing it on my build which is good. I'm also learning when to use or not use time warp and storm. They slow you down against fast enemies. Sometimes it's better just to vault and ricochet. Vault is very useful when enemies have cerebral vortex in play. You don't want to cast storm and time warp when torrents are coming.
I've been practising this build in the arena. I've decided the critical choice is to adapt in which order you use your skills against an opponent.Look at your opponent's strategy before you fight. Then take counter measures. Adapt always.