This is one of my variants of TCC Warrior.
Mr_Scooty got infinite reduction though.
@NUIQUE pffft! a billion dmg reduction. cheaters and haters will be reunite. but legit players (US) will be always on their sight. so watch out.
Ok…whoever wants to jump in send me a DM.
im always ready… lets see how it goes @tdaniel

DM Sent.
Message sent

Hopefully I will play you lot as well when I get back to banned league. What we should do is wait for every one crazy enough who joins the banned league voluntarily. Don't climb just win but take deliberate losses to create a starting point. Then we fight each other and discover our strengths and weaknesses. We then share the knowledge with each other. After that we just climb

I wasn't really expecting @tdaniel to be ok with sending players, who are interested, to the Cheater Arena to fight. or that there would be so many Legit Players interested in mixing it up with Cheaters on their home turf.
if you look at it one way, the fact that there are players who think that using a Cheat Build is ok, then it should be ok for a Player to use a Legit Build in the Other Arena.
I am sure that, even if it is a Cheat Build, there are some well thought out Cheat Builds, so good luck Legit Players! may your new battles improve both your PVP & PVE gaming with new ideas.
@Golem that's the beauty of the idea. We report cheaters and report them as such. How about turning the tables. Cheaters against build makers. From what I've learned from being in the banned League for a day is that you improve. The Devs get it. We are voluntarily banned but can easily come back. By playing cheaters we will only get better.
All right, I will give it until tomorrow afternoon (GMT -6) to let you all tell me who wants in. I will then make the adjustments on my end.
I was just thinking. just because the players in the Other Arena were cheating over here and were sent over there, there are some who are serious about getting to First Place or keeping First Place, even if they are using Hacked Equipment. so please show some respect. we are the visitors. if we have respect for them, I am sure some of them will show us some respect also, and maybe both sides can come out of this with a better appreciation of how much fun Dungeon Quest is, whether you are a Legit Player or Hack Player.
Smack Talk is ok if it is in fun, but it can get bad pretty fast. let the Builds do the Smack Talking, and may the Best Hack or Legit Build stand in First Place in the Eternal League Division One Hackers Battle Arena!
@Golem come to the dark side for a day and realize how good you are.
I don't think I will. I don't have a good build for something like this. but it sure sounds exciting.
Banned League is not that hard. I have spent year in eternal 1v1 fighting the same opponents. I'm bored.
Thanks for supporting this proposal @tdaniel!
hey. im still in the legit league. @tdaniel please ban me. (cant imagine im saying this) lmao!
Done!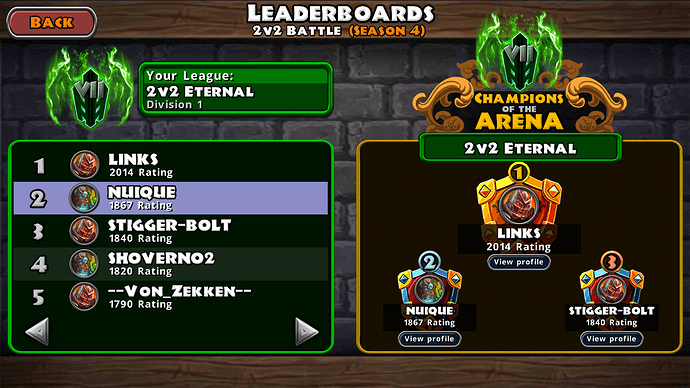 You are going to love it @kiane_zaine.
@tdaniel