The last pet would be good on an immortal warrior using electricity as a element. Check the immortal guide reveal by @Mr_Scooty
hmm my immortal build use satyr spirit and or permafrost pet, if i use electrified pet, it will reduce the defense and a lot of hp, i tried it but didn't work.
I will make new rogue or wizard that kinda fit with this eternal pets.
warrior and wizard would fit in
Eternal Fauna: a Farm Build or any other Build that can make use of Gold Find. only Wizard can use Reclaim Talent, other Classes can't use it. a Build that uses Bleed. a Build that doesn't use MH Primary Skill for DMG. a Warrior Build that needs lots of Armor.
Eternal Lilith: Wrath is a Warrior Talent, it doesn't work with other Classes. a Bleed Build for any Class for any Element. maybe a Blood Magic Resource Build.
Eternal Storm: Assault is a Warrior Talent, can't be used by other Classes. Shock Builds. Reflect DMG Builds. MH Primary Skill doing most of the DMG or a Discordance Resource Build. Rogue Stealth Build.
I think reclaim and toss can fit with other classess, i even try this on 1st floor and it's not working

Imma try Fauns Pet first, it looks good on farming.
Thank you
there are a lot of Talents that would be good for Cross Class. like Cross Class Skills, they can only get you up to Talent 20 with a +10 Talent on the Pet and +10 All Talents on your Equipment. 30 if you have an Eternal Pet.
I think the reason the Dev's don't let Talents Cross Class is to keep the Classes more individually distinct.
This looks fantastic for a bleed type energy craft.
Thank you sir, i will try energy resource soon.
i have no luck in getting a good ethernal pet i still get mix class talent pet 12 times
@olkyora I have converted a lot of eternal pets because of they had a strange mix of class talents. I have a few potentially good ones. One of two that are unused excite me. I'm thinking about creating a new hybrid summoner rogue build with chakrams, enigma, mirror images and furies. .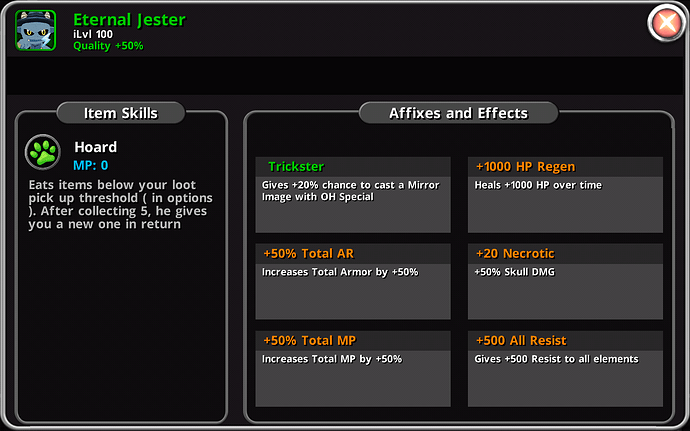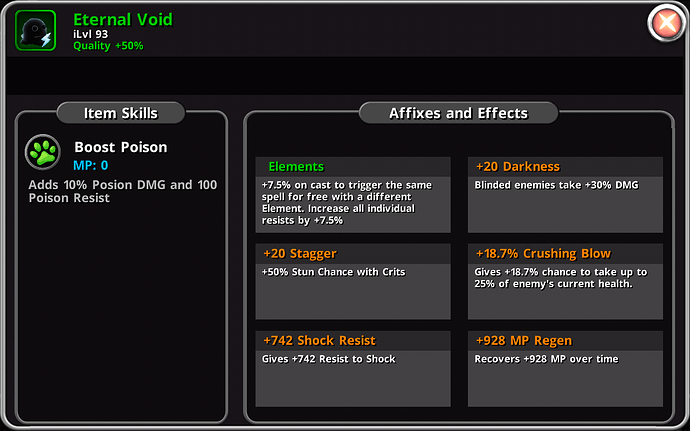 Here are some of my unused pets. Both are good ( ignore necrotic on the imp) Now I have to think very carefully what my OH special will be.
hope you make a great one dude im look forward to that
It's nice to see a player who levels up his or her pets. Game changer

This is my farming wizard pet for the same immortal wizard in pvp. When you see it you will get ideas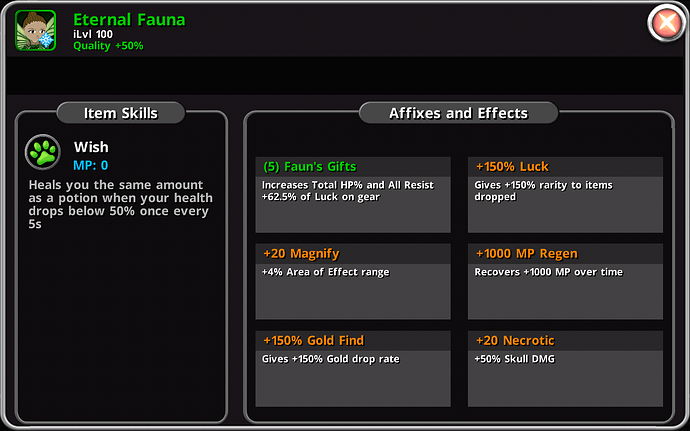 Ths is so great for farming