Hi there,
Im relative new, I'm currently a farming warrior
with Wizard Hireling (storm plague ethereal drain)
My3 floor 400 to 500
Warrior crystal set Hammer and mainly Spamming Scalp on a green powerful living Force offhand.
My question us, I now found 2 Nadroji Gear (Ring and Armor).
Those give a 100%enemy rarity and + 2set…
Im considering to swap.with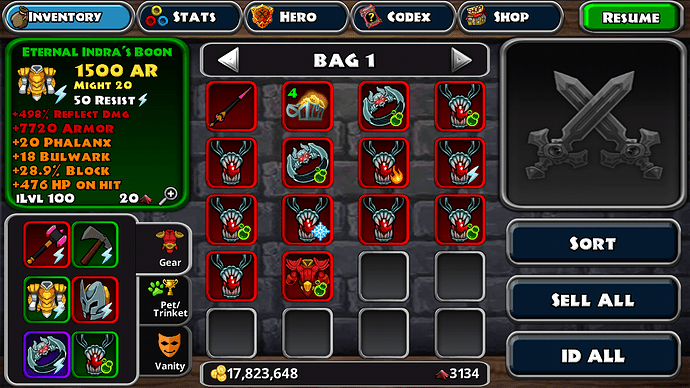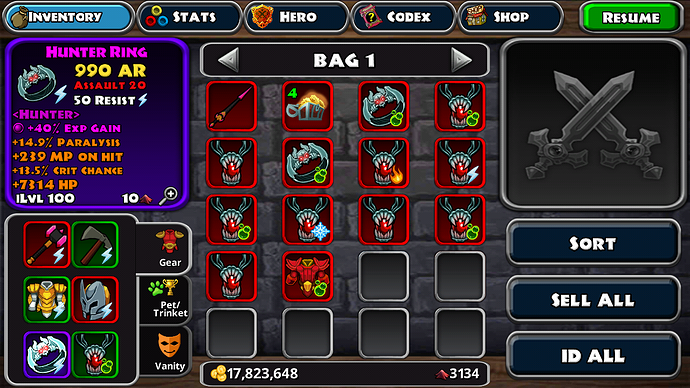 these:
I wear armor to achieve.my.personal highest block.
I wear ring to have Hunter perk, mana etc because I sometimes change other gear to be versatile.on having enough mana to spam my scalp.
So what do you think should I swap Nadroji with these 2 items or keep the Hunter Perk and greater Block with a Throw Build Atm.
Is the Nadroji Set and ~200%Rare Legendrate worth it?
It's.not the.topic just some background:
My original farm until yesterday was with Whirlwind with a Green Travesty Axe Epic Floor 400 yo 500. But to find some My3 specific Item and use the Crystal Set I'm trying this atm-
Also for whirlwind at My3 I need more defence somewhere which I cannot get atm. Otherwise Bosse @ my3 make.me pay more.moemy than I earn. Again just Background.
To.complement here are.my main weapons depending on if I play whirlwind or Scalp (varying).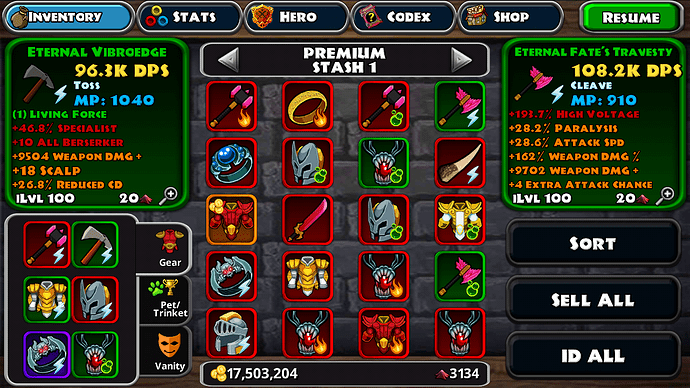 Screen3: On the Left Green Vibroedge, on the right green Travesty Axe. (The Eve gets a Crystal Hammer as partner for The set bonus) (The Axe gets a Defensive Dodge block Horn as Partner)