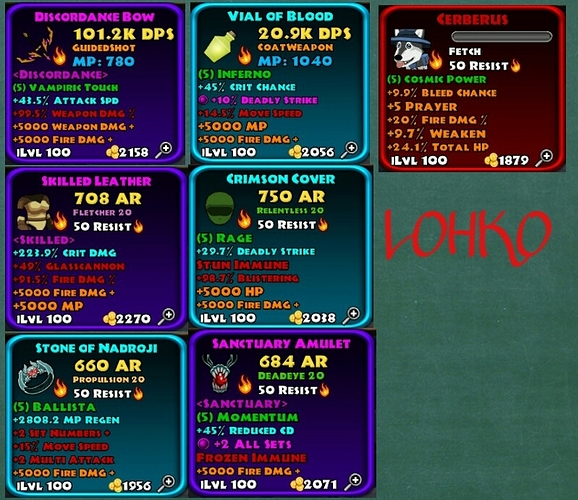 This build is plain as u can see. it full with direct multiplying power.
•Inferno at rank 3 +30% fire damage
•Ballista at rank 3 increase damage of throw item by 4.5% per yard (guidedshot max yard travel is around 20-25 yard) you can simply × it later on.
•momentum at rank 3,increase damage by 30% current M.Speed.
•Vampiric touch, well this is luck in my build. as u can see, bleed chance only have on my pet.
•Cosmic power at rank 3 increase projectile damage by 38% (noy remember tho i think it inside timewarp)
•Rage. the only set i could think that atleast increase my spike damage.
Skill
multishot stay as u need that 1050% damage on your guidedshot.
also your OH vial is must i guess, since this is single shot build mean u will need extract all power into 1 arrow. so before u shot u need to coat first. also it special skill amber to timewarp. timewarp increase projectile damage by 50%. in the end u need to active all buff before u release ur overwhelmed arrow.
talent
some i dont remember it name tho.
i think i use flicher (something like that) multiplying bow attack speed.
relentless increase damage per % of % enemy hp missing.
porpus something lol. not remember (sorry) chance knocking back enemy (u will need this chance after u shot, when enemy hitted it will req 1-2 sec before ur enemy die. so knocking them back is 1 kind of buy time). *there is some reason why i not use dexcious or something name like that (increase crit damage beyond on DODGE) u wont let them ever i mean EVER get close to u lol. u sure dead if ur enemy infront u. u wont let them attack even once so u can dodge and buff. it too complicated to active it buff while u cant even let them get close to u.
deadeye increase deadly strike, this is setup for extreme spike damage.
Mythic skill
Discordance ofcoz u need it to make ur single shot. also discordance increase all damage come from MH by 25% also reduce cost and cooldown. (if u see in my ring there is +2 multi attack affix) i read somewhere that discordance increase damage by EAC and MA. but i still wondering the % of each 1 EAC and MA to damage, i hope dev explain it lol.
Skilled increase primary damage by 50%
Sentuary this is just backup if ur enemy get infront u. u can take this as ur second chance.
i not Screenshot my thropy tho. but for sure u need flawless thropy, flawless reduce block and dodge chance, this what u really need. if u build whatsoever strong build if it not hit. then it not deal anything. got it.? and also it extremely important. thropy skill must be silence. when u hit them u need them to silenced for 2 sec. this atleast to prevent them to remove DoT debuff.
*THIS 1 SHOT BUILD WILL ULTIMATELY FORCE YOUR ENEMY TO AUTO ACTIVE SENTUARY AND ACTIVE REMOVE DEBUFF THING.
Calculating format
1.Discordance, inferno, momentum (Rage value spike hidden)
2.Skilled
3.Timewarp + cosmic power
4.Ballista.
5.Relenless (talent) this when DoT take control on your enemy.
this basic of it core, the actual mutiplying at lvl 20 i cant figure it out yet. unless i know my Bow Base damage at lvl 20.
Btw Enjoy. i hope u can understand my messy english and understand ky explaination lol.